As an avid babywearer I am a huge fan of slings and pouches. They are great for newborns as well as toddlers and are easy to pack for an outing. Although I love pouches for their ease of use and clean design, I have always preferred ring slings for their adjustability factor. They can fit Mom and Dad and are usually a better choice for growing babies.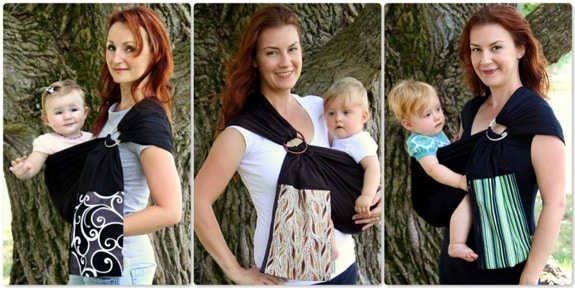 When I received my Upmama baby sling I was immediately impressed with the quality and workmanship. It came threaded and ready to wear with clear, detailed instructions on how to wash and use the sling as well as step-by-step photos showing you the various carrying positions. This sling is very well made and the designs are gorgeous. I love the stretch sateen cotton fabric used to make the slings as its slight silky sheen is classy enough to wear when going out and durable enough for everyday use.
After testing the Upmama baby sling, I was very pleasantly surprised to find that it is actually a cross between a pouch and a ring sling. A hybrid ring sling! Now the con to most ring slings is that they usually take quite a bit of practice but this wasn't the case with the Upmama. It is extremely easy to use and the perfect "beginners" sling if you will. What I love about the Upmama baby sling is that the pouch is built into the sling so basically you just pop your baby into the deep pocket, adjust if needed, and off you go. The rings sit nice and high on your shoulder and there was virtually no slippage with the fabric and rings. (I've used slings in various fabrics such as Tencel, linen, and silk and they all slip a little after being worn for a while.) I really enjoyed the slight stretch that the fabric had as it gave a more huggable factor while carrying my baby while being extremely supportive at the same time.
The tail isn't too long like some other slings I've seen and it's wide enough to provide nursing privacy. There is a beautiful, zippered pocket at the end of the tail which is large enough to hold a diaper, wipes, keys, phone, and some change if needed.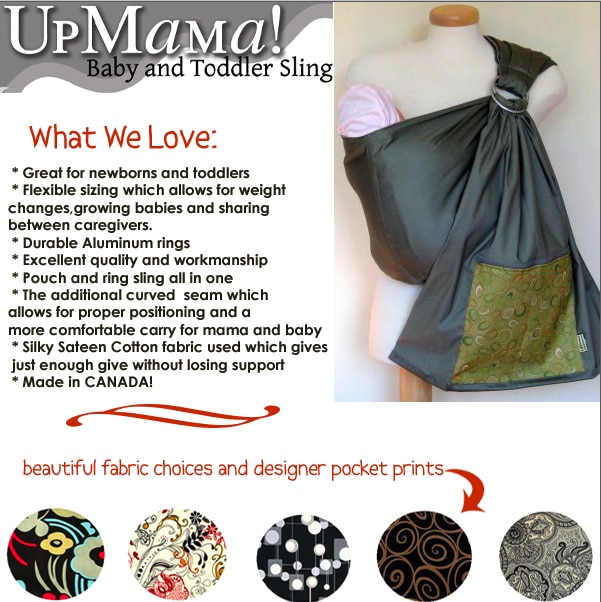 I wouldn't hesitate to recommend this sling to a new mother or someone who is interested in baby-wearing for the first time. It comes in 3 sizes: S (dress size 4 to 8) M (dress size 10 to 14) and L (dress size 16-20) as well as an assortment of beautiful colors and designer fabrics. Please visit www.upmama.com for more information.
Reviewed by Nadia