When baby Cooper was born on January 20th, his parents immediately noticed that something was wrong  with their baby.
"He wasn't crying, so I kind of just sensed something was off," Cooper's mother Danielle Wilson, of Denver  told ABC7News.com. "His discoloration was very apparent."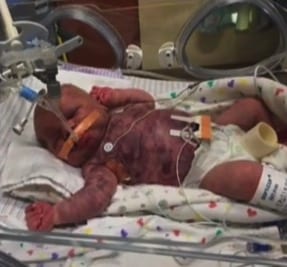 Just 36 hours after his arrival Danielle and her husband Eric would receive the shocking news that their son had Acute Myeloid Leukemia, or AML. During talks with specialists later, they learned that AML is a common form of leukemia in adults, but is very rare in newborns (some studies say AML in newborns occurs in around 5 births per million).
Doctor Brad Ball, a pediatric oncologist at Rocky Mountain Hospital for Children told ABC News there was no way of to prepare for such a devastating diagnosis.
"In some situations you might have a reason to check, but without any reason you would never know,' says Dr. Ball. "It's always a little jaw dropping to have someone so young get chemotherapy."
Cooper has some bleeding on his brain, the expected counts of cells in his blood are off, his liver is enlarged, and his little body has extensive bruising.
Now he has a long fight ahead of him.  He will need to stay in the ICU while he undergoes 6 months of chemotherapy, a potential bone marrow transplant, and other trial treatments.
Presently he is being well cared for at the Level 4 NICU.
In an attempt to remove remove finances from Eric & Danielle's thoughts during these difficult months, Jeff & Scott, Eric's older brothers, have started a Crowdrise Page to help raise funds for the family.    In the couple days it has been up, the fund has raised more than half of their $100,000 goal.
---
[ad]
Save