Couples going through the fertility process put their complete trust in the facility they chose to help them start their family. This trust was broken for one couple after Rishon Lezion's Assuta Medical Center transferred the wrong embryo to a woman earlier this year.
Now nine months after she was mistakenly implanted with a fetus that was not genetically hers, the woman has given birth to a healthy baby girl at the Sheba Medical Center near Tel Aviv.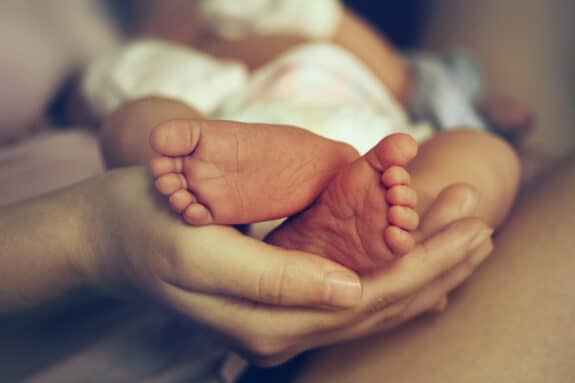 The hospital said that both the mother and child were doing well and that the newborn was undergoing checkups.
The new parents, only known as Ayin and Alef, plan to raise the baby as their own.
Through her attorney, the mother said: "I am tired and exhausted. I have fulfilled my life's dream. I wanted a baby for many years and went through grueling treatments until the long-awaited moment arrive. I ask that they allow me to raise her and leave me alone."
During the pregnancy, the Rishon Lezion Assuta Medical Center notified one couple that it was most likely the growing fetus's biological parents.
That led to a very public fight between the two couples, with the supposed biological parents saying they would seek custody of the child, while the pregnant woman and her husband vowed to fight to keep the baby.
When tests found that the couple had no genetic connection to the fetus a family court refused their request for custody, leaving the new mother and her husband as the infant's legal guardians.
Speaking to the Walla news site on Wednesday, Assuta Chairman Prof. Shuki Shemer said it didn't have any leads to identify the child's biological parents. The center would also ask the Health Ministry to reexamine the benefits compared with the damages that the continued search could entail.
There are potentially 40 more women who could be tested in order to identify the embryo's biological mother. If one is found to be a match with certainty a legal process could follow to decide who receives custody over the newborn.
Reports state there are hundreds of women who had fertility treatment at the Assuta hospital and "a large group" have already joined forces to seek legal advice with the intention of demanding that the center verify their embryos were not implanted in other women, or that the embryos they are carrying are not from someone else.
A former hospital employee anonymously claimed that she'd witnessed several instances of neglect involving the handling of embryos while working at Assuta.
This is not the first time an embryo mix-up has occurred.
In November 2021, a woman gave birth to her second daughter, only to discover weeks later that the girl was unrelated to her. In that case, the woman retained custody of the baby girl.