Molly Gibson is just one month old, but her birth is incredible for so many reasons.
After years of struggling with infertility Tina and Ben Gibson turned to embryo adoption on 2017.
Created for in vitro fertilization for someone else, embryos are left in frozen storage and sometimes available to others who are unable to naturally conceive a child. These embryos are called "snowbabies" and stored in icy suspension as potential lives waiting to be born.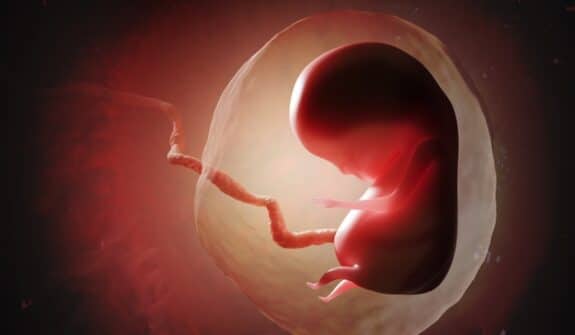 After research, the couple adopted a total of five sibling embryos from the same egg donor. That year three were transferred, one developed into a beautiful baby girl named Emma. At the time, she set the previous record for the longest-frozen embryo known to have resulted in a birth – 24 years.
In February, Molly's embryo was thawed and transferred to Tina's uterus. The pair learned just before the pandemic shut down the world they were expecting again.
"She's definitely been a little spark of joy for 2020," she said.
Born at the end of October at six pounds, 13 ounces, Molly broke Emma's record for longest-frozen embryo know to have resulted in birth – 27 years!
Thrilled, Ben and Tina were overjoyed to become parents again.
"Every single day, my husband and I talk about it," she said. "We're always like, 'Can you believe we have not one little girl, but two little girls? Can you believe we're parents to multiple children?'"
Molly's healthy arrival just goes to show that embryos shouldn't be discarded because they're "old", Dr. James Keenan, the center's President, and Medical Director said.
"This definitely reflects on the technology used all those years ago and its ability to preserve the embryos for future use under an indefinite time frame," said Carol Sommerfelt, the center's lab director and embryologist, in a release.