Let the fun continue even after bath time is over by wrapping your wiggly, giggly tot in a cute and cozy character towel from Zoocchini! These delightfully luxurious, oversized, hooded towels measure 20"x50" and they are made of 100% 5 ply cotton, and embroidered with charming details that bring each animal to life. To help keep your babe warm and toasty after a dip in the tub this winter, we're giving away a Casey the Cow towel to one lucky winner here on Growing Your Baby!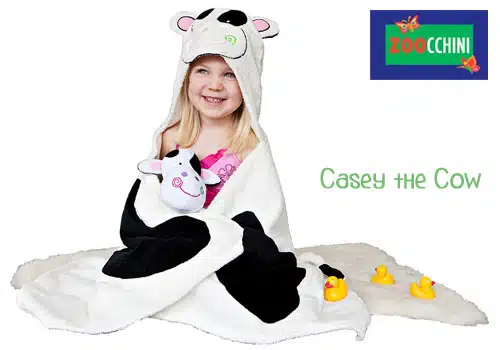 Other adorable animals available in the Zoocchini barnyard, ocean and safari towel collections include: Lars the Lion, Elsie the Elephant, Marvin the Monkey, Clawd the Lobster, Fanny the Flower Fish, Ollie the Octopus, Petey the Dog, Doinkie the Piggy and Casey the Cow. When summer rolls back around, kids will love taking their towel pals to the beach or pool to dry off and cuddle up in after swimming.
If your kids can't get enough of their new towel friend, Zoocchini also offers their endearing characters on dinnerware sets, carpets, and as plush toys!
SAVE! – Zoocchini has teamed up with www.MyToySmart.com to offer GYB readers a 15% discount on all of their towels. Just use the code "OCEAN15" at check out.
WIN IT!! Zoocchini offered one Growing Your Baby reader the chance to win Casey($30 value)!
Congratulations to our winner Amanda H.
Thank You to Carol's bloggy for blogging about the giveaway: