While other children his age are content to play games or read, five year-old Harshit Saumitra of New Delhi, India wanted more for himself. An aspiring mountaineer, little Harshit had dreams of climbing Mount Everest. Knowing to chase after his dreams, the boy began his journey to achieving his goal by spending ten days hiking 45 miles, to become the youngest child in the world to make the trek to Mount Everest Base Camp. The boy now hopes to get his name into the Guinness Book of Records.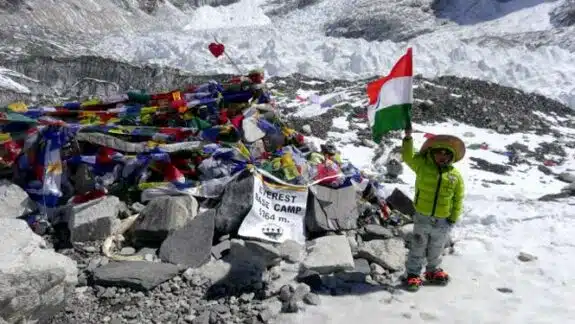 Harshit began trekking on tough terrain at the tender age of three years-old. His dad, 42 year-old Rajeev Saumitra said, "I'm so proud of my son; he has done the unthinkable. I'm confident his name will get into the Guinness Book of Records. We've sent video clips, pictures and Harshit's birth certificate so fingers crossed." Saumitra, a teacher by trade, is also an avid trekker who runs a private coaching institute. He says that his son had first shown an interest in climbing Mount Everest while the family was on holiday in 2012.
Saumitra said, "He kept saying he wanted to climb Mount Everest but I said he was a little too young for the huge mountain. Then I realized he could most probably do the base camp. When he's trekking he's infused with energy and excitement. He never stops or complains. He's actually my wife's motivator and is usually the one encouraging her to keep walking. He's a natural." On October 8th, Harshit and his father flew to Nepal to begin their trek, which cost over $11,000. Rather surprised, Saumitra said, "He didn't complain once. He has really surprised me with his power and stamina." The little boy subsisted on dry fruits and his favorite pasta for energy.
In the wake of cyclone "HudHud," and heavy snowfall, Harshit completed the trek up to the base camp, at an altitude of 17,650 feet. He also scaled the nearby Kalapathar peak, standing at an impressive height of over 18,000 feet. Saumitra began trekking after he grew up in Jharkand, in eastern India, a rather mountainous village. Saumitra said, "As kids we used to climb up hills to kill time, there was nothing better to do in our area. We didn't know trekking was actually an adventurous hobby." Saumitra trekked to the top of Mount Everest in 2012. He has promised Harshit that when the boy turns ten years-old, he will train him to climb the mountain.
Harshit's mother, Neetu Saumitra, 40, is as proud as proud can be of her son. But that pride is also mixed with terror for her little boy, saying, "I never wanted Harshit to go to Everest but I eventually bowed to his wishes. I was terrified and nervous because he's so small and it was his first time away from me. I couldn't sleep for the first five days. I was told about an avalanche and that 145 people had gone missing, I was numb. But eventually I was informed that they were safe. Now he's back and I cannot contain my emotion, he is an amazing child."
Harshit isn't the first child to scale the treacherous mountain, but he has overtaken the record of another Delhi boy, Aaryan Balaji, 7, who trekked to the base camp in 2012. The youngest child to scale the entire mountain is Jordan Romero of California, who climbed to the summit on May 22, 2010, at the age of 13 years, 10 months and 10 days old. In May of this year, Malavath Poorna, an Indian schoolgirl also reached the summit at the age of 13 years and 11 months. But, little Harshit isn't in it for the glory, he just enjoys being in the snow and wearing his favorite black goggles. For his next goal, he hopes to scale Mount Killimanjaro in Africa, which is a 19,341-foot climb.
---