My son has been a bit obsessed with the Backyardigans lately.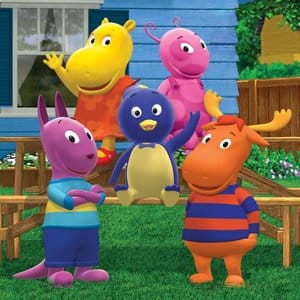 This has forced me the watch many episodes a day, bringing me to the conclusion that this show isn't all that bad. It's official. Pablo, Tyrone, Uniqua, Tasha and Austin have grown on me.
Here are 7 things I love about the Backyardigans:
They are so polite!

I like that the characters are always saying please and Thank you – something that we expect from our son.

Great Music and Dancing

– Each episode features music from a different genre. The Backyardigans do Disco, Country, Hip Hop, Reggae and Classical. All of these great songs are paired with cute dance numbers that technically correct. I love the music so much, it gets stuck in my head for days.

Teaches History and Geography

– Many of the episodes are set in historical places or popular geographical locations. The show has been to some amazing places like The Grand Canyon, Mt. Olympus, Hawaii, Egypt and The jungles of Borneo. This gives me the chance to teach my son about places we may visit.

Tries To Change Stereotypes

– The creators of the show go to great lengths to change stereotypes about historical figures that may have been portrayed negatively in the past. Pirates are nice, giants don't hurt people and the famed Yeti is just lonely.

Positive Messages

– Each episode has a positive message in it. Whether is is team work, sharing or showing consideration for your friends, these 5 always end up teaching a positive message.

They Eat Good Snacks

– As the mom of a VERY picky 3-year-old, it makes it easier for me to introduce a new snack when my son has heard that Tyrone has eaten it. This is how we get him to drink milk and how we managed to get him to try cheese and crackers.

Crossover Content

– Some kids shows are so mindless that I can't watch for more than 10 seconds. While the Backyardigans are not on par with Grey's Anatomy, I have a few episodes that I prefer because of their fun story lines that actually end with a message.
---
[ad]