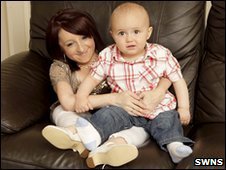 Most mothers feel a sense of pride when their sons become taller than them, but for 25 years old Amanda Moore it is a daily struggle she has to cope with.
Her situation is unique because Amanda suffers from a rare bone disorder called osteogenesis imperfecta – commonly known as brittle bone disorder which has limited her height to just 3 ft. 1 in, and without the ability to stand.
Amanda's son Aidan is 14 months old and already 2ft 6 in. tall.
Says Amanda,
"When I sit on the floor to play with him, he is taller than me already and he's only 14 months old. He's getting so big and strong that soon we'll have to tell him to be gentle with Mummy. It's been a struggle because he's been running rings around me since he was crawling. Most boys are bigger than their mums but not after a year."
The tiny mom was born with 14 fractures herself and when she became pregnant doctors warned her and her 6ft. 1ins. tall husband Steven Fyfe that it could prove fatal for both her and the unborn baby.
But the family overcame every ordeal as Aidan was born in February 2009 showing no signs of inheriting his mother's disorders. He now weighs 22 lbs almost half his mother's weight.
"Soon Aidan will be bigger than me and we are working out how I can move him around the house in my chair while Steven is at work." said Amanda.
Not ruling out the prospect of having another child proud dad Steven says,
"It's been a struggle but Aidan is doing so well. He's a big boy and will soon be much bigger than his mother. When Amanda became pregnant doctors told us she or the baby could die, or even both of them. But they are both fighting fit and we are a very lucky family."
– Atula, Staff Writer
---
[ad]