After reports of erratic behavior over the last couple days, Brooke Mueller has been hospitalized in Utah, while she possibly undergoes a psychiatric evaluation.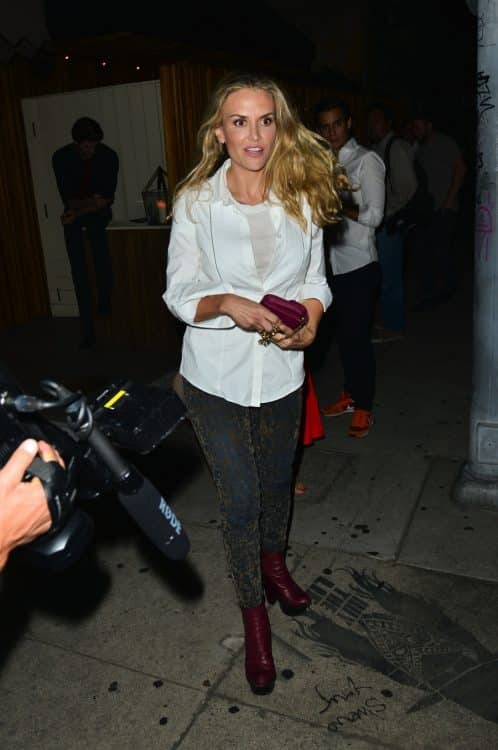 On Tuesday night TMZ reported, Brooke walked into a Salt Lake City bar barefoot, with her kids — Bob and Max, 7 — and the family nanny. The police were called after Brooke and the nanny got into an altercation. The group fled the scene before officers could arrive, but were reportedly spotted at various hotels in the area, trying to get a room.
On Wednesday witnesses told TMZ Charlie Sheen's ex-wife was allegedly spotted at a carwash striking her kids, but she left before she could be questioned by authorities.
Law enforcement sources told TMZ a woman claiming to be Brooke's mom asked troopers from the Utah Highway Patrol to find her daughter to determine if she was mentally unstable. A short time later, troopers spotted Brooke on Interstate 15 near Nephi, Utah, with the 7-year-old twins and their nanny.
The troopers took Brooke to a hospital and the kids were taken away and will be released to an undisclosed family member.
The Salt Lake City Police Department issued a statement on Wednesday after the family was located.
"On the morning of November 16, dispatchers with the Utah Department of Public Safety received a welfare check call from a woman claiming to be the mother of Brooke Mueller. Troopers with the Utah Highway Patrol responded to the welfare check call and located Mueller, her two children and a nanny on Interstate 15 near Nephi, Utah. The children are safe and will be released to family. Mueller was taken to an area hospital for evaluation. The State Bureau of Investigation is currently investigating the incident. We do not have any more information to release at this time."
In the past, Brooke has struggled with drug addictions and has been in rehab more than 20 times. Her latest stint was in May, 2016. This time around she is said to have 'gone off her medication.'
The twins' father, Charlie Sheen addressed the issue to People.com with a bizarre poem that read,
"In the face of a roughshod and polar moment of unsanctioned divide, sanity and certainty were restored with grace and resolve. Immeasurable gratitude and love to a fellow yeoman of the apocalypse; sir Michael from that hamlet called Walters, need accept each and every Crimson palm-sting, as high fives rain upon his bitchen nobility, not just from this traveler, but from his safe and stable brood as well." wrote the 51-year-old actor.
We're guessing it means, things went awry, he rushed in and saved the day and was thanked by everyone…
The bottom line is the kids are now safe and sound.  We hope their mom gets the help she needs.
---
[ad]
Save