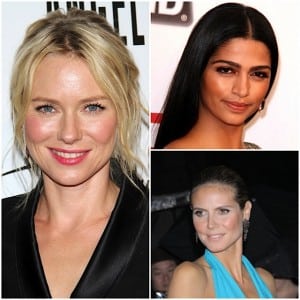 Celebrity trendsetters and Hollywood moms have teamed up to create unique maternity jeans to be auctioned of to benefit the March of Dimes.
Celebrity moms Laila Ali, Heidi Klum, Naomi Watts, Jewel, Nicole Sullivan, Diane Farr, Camila Alves, Busy Philipps, and Kaitlin Olson each have embellished a pair of designer maternity denim as part of an online auction, "Celebrities 4 Maternity Denim." The auction is an initiative between the March of Dimes and Destination Maternity to raise awareness about the importance of preventing preterm birth so more babies can get a healthy start in life.
The denim will be auctioned off to the public from August 25 to September 22 on www.biddingforgood.com/celebs4maternitydenim. Bidding will begin at $300 per pair of jeans. All of the proceeds will support March of Dimes work to help moms have full-term pregnancies and stronger, healthier babies.
"Now moms can be even more stunning in one-of-a-kind jeans, personally designed by their favorite celebrity icon," said Jane Massey, Executive Vice President of the March of Dimes. "We are thrilled to work with Destination Maternity and these generous celebrity moms to connect with moms and give them the information they need to have full-term pregnancies and healthier babies."
New and expectant moms and their guests are invited to Destination Maternity's Fashion's Night Out celebration hosted by Laila Ali, to see the denim on display. Fashion's Night Out will be held at Destination Maternity's flagship store, 28 East 57th Street at Madison Avenue in New York City, from 6 to 9 p.m. on Thursday, Sept. 8th. Guests can bid online from the store that evening.
"We are proud to partner with the March of Dimes on this initiative," said Ed Krell, Chief Executive Officer of Destination Maternity. "This auction makes a strong statement of support for a cause Destination Maternity believes in and has supported for many years."
Related Articles:
---
[ad]