A Chinese toddler is getting quite a bit of attention after he was photographed chained to a post in the middle of Beijing.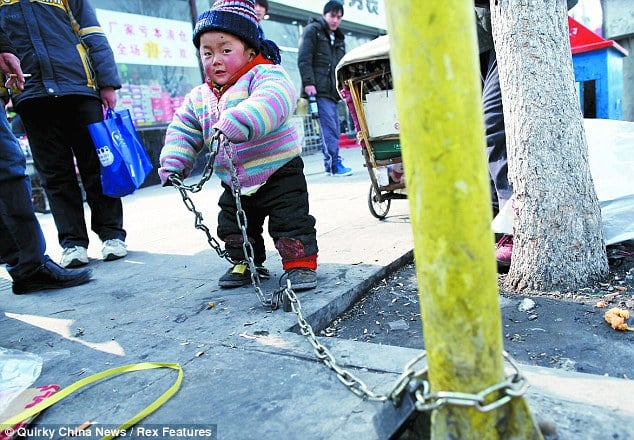 'Yet his parents say this is the only way they can guarantee not to lose him'.
The little boy's father Chen Chuanliu works as an unlicensed rickshaw cyclist in Beijing, taking fares all over the city, while his disabled mother collects rubbish by the roadside.
When they cannot be with him they chain and paddlock him to a post to keep him from wandering off or getting stolen, something they are all too familiar with.
Last month they had their four-year-old daughter Ling 'stolen' from them and refuse to have the same thing happen again.
'I don't even have a picture of my daughter to use for a missing-person poster. I cannot lose my son as well.'
Because the family is from another province they do not qualify for state help, therefore there is no daycare for tiny Lao Lu.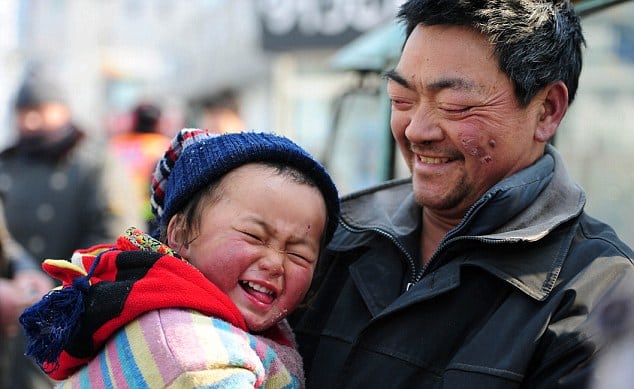 Chen said he could not afford to pay for childcare on his earnings of £4.50 a day and his wife cannot take care of him because of her disabilities – so they chain him to a pole when he has a fare.
The couple may be forced to make alternative plans for Lao after concerned passers-by spotted the shackled toddler yesterday and reported his father to the authorities who was ordered him to remove the chain.
I hope that Chen and his wife are able to find someone who can watch Lao. I cannot believe that nothing has happened to him thus far. I don't even leave my son in the kitchen while I'm in the bathroom – let alone travel half way across town while he is stuck to a tree.
Related Articles: