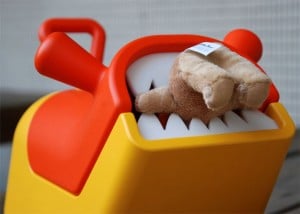 Designer Tzung-Yu Lu has created a cool way to teach your kids to pick up after themselves.
The Toy Guardian is monster on wheels, hungry and ready to eat up all your toys but don't worry, he'll only keep them until you need them again.
Your kids can climb on him, throw their toys in him and know that he'll keep them safe because his snarl will scare off any burglar.
He also features a retractable handle to be transported easily and soft teeth that are made of EVA foam so that no toys are 'hurt' during the cleanup process.

The only thing that is wrong with this toy box?  It's a concept and not currently available for sale.
It was, however, recently crowned 2010 IDEA Design Winner so maybe a toy manufacturer will put it into production.
---
Related Articles:
---