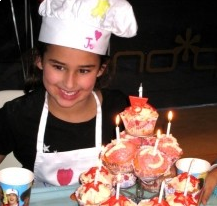 Whether you think your kid could become the Food Network's 'Next Big Star,' or he finds stirring the batter a tall order, former Wall Street financier turned Cupcake Kids! entrepreneur, Jessi Walter has just the class for your pint-sized cook in training. With appealing themes for both girls and boys ages 2 and up, Cupcake Kids! classes combine the fun of cooking with lessons on nutrition. And if you're stumped for what kind of birthday party to throw for you mini Paula Deen, Cupcake Kids! offers amazing, all-inclusive party packages too!
With the holidays approaching, Cupcake Kids! current class offerings are seasonally inspired: Happy Halloween: Scary Snacks, Thanksgiving Feast: Yum Yum, Ho-Ho-Ho Gingerbread House, and Holiday Cookie Creations. Parents attend classes with children ages 2-4 years, so moms and dads can brush up on their culinary skills alongside their tot!
The popular party themes offered at Cupcake Kids! will make parents wish they were young again! Star Wars Adventure, Make Your Own Pizza, Late-Night Treats, Pinkalicious Cupcake Make Bake and Decorate are just a few of the inspired options for kids wishing to celebrate their birthday cooking in good company. And if home is where your child's heart is, Cupcake Kids! will bring all the fixings for a foodie fiesta to your house!
Cupcake Kids! is based in NYC; and the Big Apple is also home to the Food Network. So lucky Manhattanites, get your kids cooking and they may actually turn out to be the next Bobby Flay!
---
---
[ad]