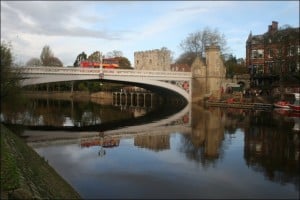 Earlier this week a UK mom learned that you can't leave your stroller unattended –  for even a second.  Thankfully a man, who was cycling back to his home was on hand to help when her buggy went for a ride.
On Thursday an unnamed mom was out with her children for a walk when she stopped at the embankment leading down to the river for a split second to fasten her other child's coat. It was in at that moment that the stroller with her four-month-old baby girl in it began rolling into the river.
David Atkinson was biking nearby when he heard the mother's screams and jumped into the river near the Lendal Bridge in York.  He was joined by two other men Mik Tankard and Jamie Atkin who also heard the commotion..
Jamie, a worker at the Bike Rescue Project hub beneath Lendal Bridge, said,
"I heard a woman scream and I looked up and I saw a pram with a baby in it roll all the way down the steps and in to the river."
When he reached the bank David had already jumped into the river and was taking the pram out with help from Mik.
"I ran down to the riverside immediately and there was already a man in the river and another man on the bank trying to help. Together we lifted the pram out and I saw the face of the little girl submerged in the water.

"She started crying and at that point my heart started beating so fast because then I knew she was all right. It was so scary. I was still shaking like a leaf hours later."
Despite his heroic efforts though, David did not wait to be thanked by the family whose baby's life he had just saved. Later when he spotted an appeal by policemen on news websites that they wished to praise him, he came forward to tell his story.
"I was just so grateful that out of sheer luck I was there and close by and could help. I'm sure I did what anybody else would do. The mother had turned away from her pram for a split-second and I saw the pram roll away. It felt like it was in slow motion – like something out of a film. I was so scared. I ran and tried to grasp the handles of the pram, but couldn't and it went into the water. I thought – there is nothing else to do but jump in after her."
He recalls that he was scared but was grateful that the baby is fine.
David said, "I then just gave the mum a hug – she was so upset. I think I said something daft like 'just make sure she has a good life' As a father of a little girl myself, I understand how scared she must have been. I just want to say it is okay and I am just so grateful that the baby is fine."
Mik, said he heard the woman's scream and saw that the mother had frozen of shock.
"The mum literally froze," he said. "She didn't move – I think she was rooted to the spot and was stunned. I just ran down to the river and helped lift the pushchair out. The baby seemed all right and was glad to be back in her mother's arms."
Later, Jamie helped the mother to the bike rescue hub and offered warm coffee.
"Thank God she was all right," said Jamie. "I dread to think what could have happened. Well done to the other two men who were by the river and acted so quickly."
The baby was taken to York hospital for check up and was said to be uninjured.
Police Sergeant Fiona Willey, of the York Safer Neighbourhood Team, said:
"Although the mother is naturally shaken and upset, I am pleased to be able to report that the child suffered no harm as a result of the incident.

"The man's quick thinking and actions meant the baby was only in the water for a matter of seconds. I have no doubts that he prevented a tragic outcome to this incident."
---
[ad]