The Christmas tree is up, the house is lit and stockings are hung!  Tis the season to make everything in the house sparkle and Lundby has created some festive Winter kits to help your kids get their play houses ready for the holidays.
We were first introduced to Lundby last year when they made their move into the North American market.  The Swedish company has been designing doll's houses for almost 70 years and their holiday and Winter kits are some of the best we've seen!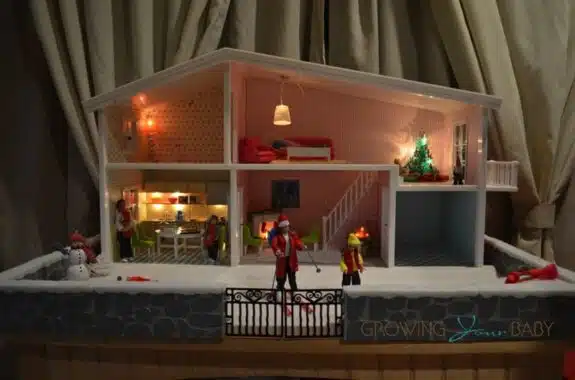 We have Lundby's Smaland dollhouse and it has a furnished living room, kitchen and dining room, but now that we've moved into Winter we have added the Winter Kit, which adds a huge front lawn complete with a 'stone' fence and a rod iron gate.  The perfect extension of the house, this snowy front lawn has some hills, which is perfect for our active family.  To bring the yard to life we added the Winter family set and the Ski and Sledge Set.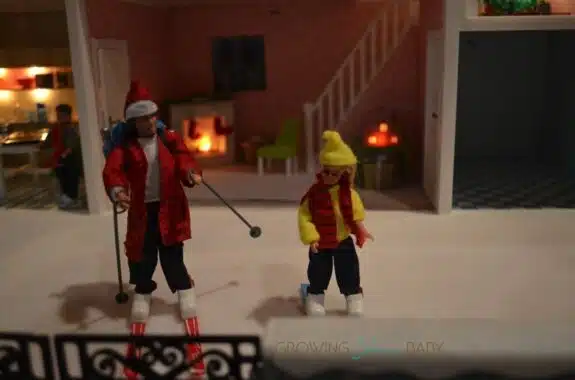 One of my favorite things about Lundby is their attention to detail.  And we see it over and over again in these sets.  The family comes bundled for the cold wearing hats, scarfs and jackets, and the skis fit right over their boots so that there isn't any removing of accessories.  Dad also has a backpack complete with two canteens.
The Ski and Sledge set includes two sets of skis and poles(1 for an adult and 1 for a child),  a snowman for the yard, a toboggan and a mountain of snowballs that can be plugged in to be lit up.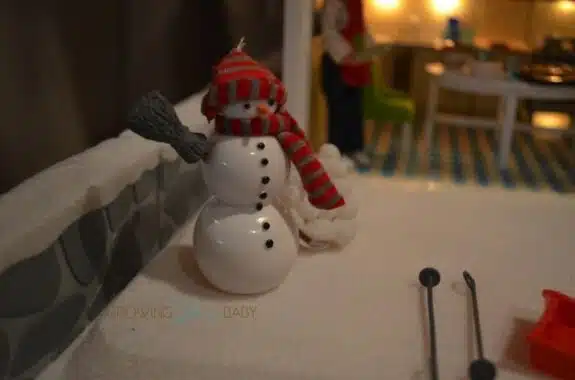 Just off the living room we added the Christmas Tree set, which includes a tree with 3 working lights, 4 wrapped gifts, a gnome and a Christmas goat.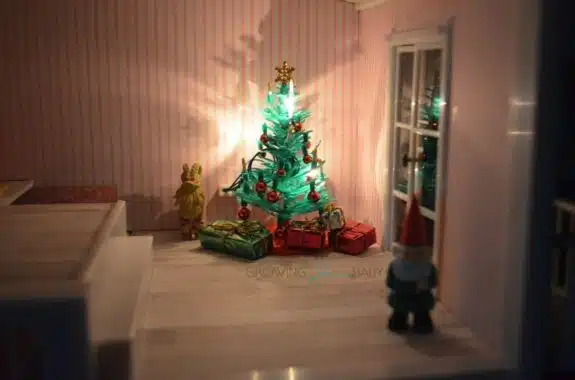 In the living room we added the Christmas Fireplace Set that includes a lit corner fireplace with stockings hung off the mantel, a Christmas picture that was painted by artist Lisa Rinnevuo and a gift box that can be filled with a couple treasures.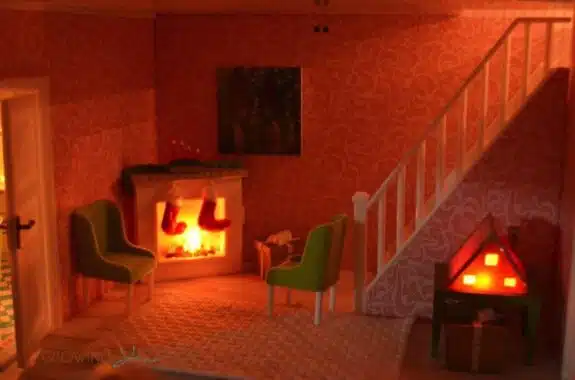 In the corner there is the Gingerbread House on a table, that also lights up, and a second gift box.  This set also comes with a box of chocolates, two pans of cookies, 2 aprons( 1 for an adult and 1 for a child) and a rolling pin.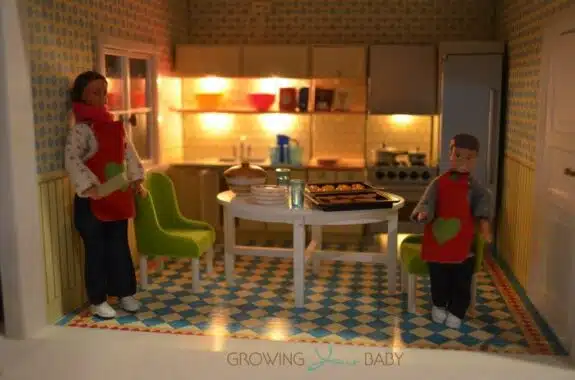 My boys were absolutely thrilled to get the house ready for the holidays.  The fact that everything lights up just adds to the magic.  With the Winter Garden kit on the house it is quite big.  But when placed on a table the house actually doubles as a gorgeous Christmas center piece.  When the holidays are over, you can just remove the stockings from the fireplace and put the tree away.  Here in Canada we still have 4 more months of Winter ahead of us so my kids will love re-creating those scenes in the warmth of our home!
Each set can be purchased individually or you can get Lundby's Winter Pack, which includes the Winter Garden, the Winter family and the Ski & Sledge set.
Our Smaland house is a work in progress and we are always looking for new accessories to add to it.  Lundby offers some of the most incredible sets to bring it to life!
I have put together a video to better show some of our new accessories.  Please check it out below!
---