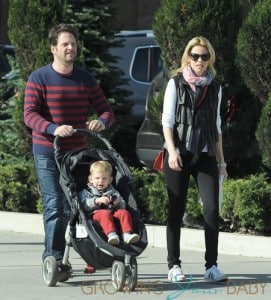 Actress Elizabeth Banks says she's officially made "Mom" status since giving birth to her second son, Magnus Mitchell, in November.
Also mom to son Felix, Elizabeth told People at the launch of babyGap's Peter Rabbit collection at Gap at The Grove in L.A. on Saturday, that she didn't really appreciate how easy having just one child was. Now a mother to two boys, she says she's feeling the full effects of being a mom.
"You don't realize how easy one is until you have two. Now I'm really a mom. Oh, I am a mom now! This is for serious – I am responsible for two people now," Elizabeth told People. "Two is very different from one. When you have one kid, you feel like you can jet around and you can throw him on the hop and you get your life done."
She says that her new mommyhood status really hit after she and husband, Max Handelman, decided to celebrate the holidays without any hired help.
"[We] had no help, no nannies, no babysitters, it was crazy," she said. "You forget how difficult it is to wake up in the middle of the night, how exhausting it is." Elizabeth even admitted to being a totally hands-on mom during that time. "I lost all my nails. I did dishes and cleaned bottles for 10 days, so I lost all those nails!"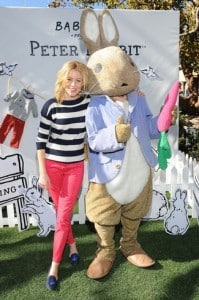 But it's not all craziness, Elizabeth says. Felix seems to be falling into his big brother role rather well. In fact, he is the "sweetest" big brother!
"He loves to say how cute Magnus is and he loves to give him kisses and he's very gentle," the 38-year-old actress said. "He loves to bring him gifts – sometimes that means shoes are thrown in the bassinet, but that's okay."
Yet despite Felix's current state of sweetness, Elizabeth says she's fully prepared for the sibling rivalry to start once Magnus becomes mobile.
"I would say [Felix] is mostly unaware of what's going on because Magnus doesn't touch his stuff. I've heard that around 10 months – when baby can actually influence the realm of Felix – that Felix will not be happy," she said. "We'll see how that goes."
And if Elizabeth and Max's naming abilities are any indicator, Elizabeth's prediction may very well be correct. The two boys couldn't be more polar opposites, and their names are as fitting as can be.
"Felix means happy in Latin and he's very happy go lucky," she said. "Magnus is definitely more serious. He's going to be the deep thinker of the family for sure."
Related Articles:
---
[ad]