Just in time for the giving season Empire Theaters is offering their popular 30/30 program.

Perfect for that person on your list that you can't seem to find the right gift for, Empire Theater's $30 Christmas Gift Card also helps your money stretch a bit further.
Until December 23rd(December 18th online) you will receive $30 in Empire Theatres Coupons when you purchase $30 in Gift certificates.
For example:
If you purchase 3 cards for $10 each you qualify;
If you purchase $60 you would receive 2 bundles.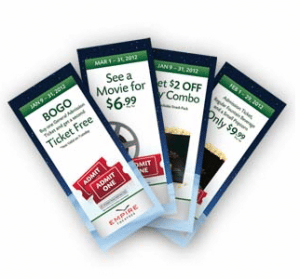 Coupon Bundle includes:
BOGO Admission (January 9 to January 31, 2012)
$2.00 off any Combo – excluding Kid's Pack (January 9 to January 31, 2012)
$9.99 (Admission, Regular Drink, Small Popcorn) (February 1st to February 29th, 2012)
Buy a Large Popcorn, get a Large Drink Free (March 1st to March 31st, 2012)
$6.99 General Admission(March 1st to March 31st, 2012)
Get $4.00 off a General Admission Ticket(April 1st to April 30th, 2012)
I addition Gift Tins are back again this year to be used as a "gift box". They are $1.00, plus tax with net proceeds going to Kids Help Phone.
Anyone can purchase a Tin; you do not have to purchase $30 in Gift cards to be able to purchase one. You can even purchase them online.
Last year this the perfect gift for us to give to my in-laws. They love going to movies and are often regulars at least once a month. This year I will be gifting this to my sister's boyfriend. They just got their first place and money is a bit tight. They could probably get 2 visits with the original $30 GC(and January's coupon). Plus the coupons will get them some munchies and extra savings for February, March and April!
This offer would also be a great idea for a teacher, boss or co-worker.
For more information please visit your local Empire Theater or www.empiretheatres.com/gift/ for online purchases.
Related Articles:
Disclosure – I am participating in the Empire Theatre Gift Card Holiday Campaign by Mom Central Canada. I received compensation for my participation in this campaign. The opinions on this blog are my own.
---