What will life be like for my autistic child as an adult? Will he or she be able to hold a job? Pay bills? Have a place of their own? Cook and clean up after him or herself? Can he or she function in society without me there all the time?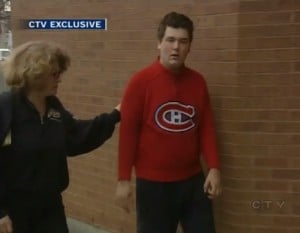 For the parents of some autistic children, the answers to these questions are obscure and uncertain. For others, the answer is a simple but disheartening "no." Whatever side you fall on, you can probably sympathize with an Ottawa family that has recently surrendered the care of their adult autistic son to the government.
"It's the most heart-wrenching, gut-wrenching feeling in the world to have to do this," Amanda Telford told CBC news after taking her 19-year-old son, Philip, to a provincial developmental services office on Tuesday. "I felt dizzy, nauseous, upset. I've spent a very teary-eyed day today. This hasn't been a very fun thing to do."
According to Amanda, Philip functions at the level of an 18 to 24-month-old child. In addition to his low-functioning autism, Philip suffers from Tourette's syndrome and insulin-dependent diabetes. He requires round-the-clock care, and after doing it for 19 years, Amanda says she and her husband are spent. But it goes even further than that; they're trying to keep a very large, very strong "toddler" safe, which I can imagine, is practically impossible.
"[A few days ago], he ended up four kilometers away at a restaurant at Ogilvie [Road} and St. Laurent Boulevard," Amanda said. "Ogilvy and St. Laurent is an extremely dangerous intersection."
Philip also managed to swallow 14 pills for high blood pressure. The accidental ingestion resulted in a seven-hour hospitalization. Then, after making it home from the hospital, Philip wandered away again.
"The bottom line is my husband and I both felt that we were not able to keep our son safe any longer. He requires 24 hours, 7 days a week, constant supervision," Amanda said. "It was constant. It's all-encompassing, and you always have to be on call. If our young man had trouble sleeping at night, one of us would have to be awake in order to supervise him and monitor him….It's years and years of chronic sleep deprivation, years and years of chronic, ongoing stress and worry…You're always on guard."
Amanda says she and her husband have asked for help from both provincial and City of Ottawa agencies. They've also pleaded for help from her MP and MPP. Unfortunately, because the system is overburdened and under-funded, they were unable to receive any help for their now adult son.
"I think that we're aware that money doesn't grow on trees for the provincial government, but there have been years of chronic underfunding in the developmental services for both children and adults with disabilities," Amanda said.
And so, without the help they so desperately needed, Amanda and her husband had to make a difficult decision: continue to place their son at risk or surrender him to someone more equipped to care for him. In the end, they decided that it would be best if they surrender him to the government.
"My husband and I are absolutely exhausted and medically unwell," she said. "I am not able to do this anymore."
Philip is thankfully being cared for in a respite facility that he's already familiar with. According to Amanda, Philip was "absolutely ecstatic" to learn where he was going. She says he seems to be very happy there, but most of all, she knows he's safe.
"I know where Philip is. I know who's looking after him," she said. "He has been there many, many times when he was under the age of 18. When he turned 18, he was no longer able to go there. He loves going to this respite place. The staff know him. They're very caring, they're very experienced…They have structured activities for him to do, and they know their clientele very well….They have locked facilities there. They have staff that are paid to stay up 24 hours a day or to work the night shift. They have nurses. They have developmental services workers, child and youth workers there who are trained to deal with children and young adults such as Philip."
Amanda says that, as of right now, Philip's placement is temporary. However, she hopes that this will lead to permanent care for her son.
Ann Borbey-Schwartz, Autism Ontario's caseworker, says that the Telford family's situation is not unique. Many families with developmentally delayed adults are struggling with the care of their children. What's more, Ann says that cases like the Telford's are becoming more and more common in Canada.
"This family is very brave, first of all," Borbey-Schwartz told CBC News. "[They] represent many families across the province, if not across the country, that are facing aging adults with autism, with a variety of needs, with very little support and very little services."
While it may seem (particularly to anyone who hasn't parented an autistic child) that Amanda and her husband have given up, the hard, honest truth is that care for any autistic child, especially one that is low-functioning, is difficult. Once they gain strength and size, the care becomes almost impossible. No longer can you writhe dangerous objects from their hands. You can't just pick them up and redirect them anymore. You can't stop them from bolting down the street when they're scared or angry or overstimulated. So what do you do?
As the mother of an autistic child, my heart goes out to the Telfords. I hope that Philip and his parents receive the care that they all so desperately need, even if it means that Philip's care is permanently handled by someone other than his parents.
Related Articles:
---