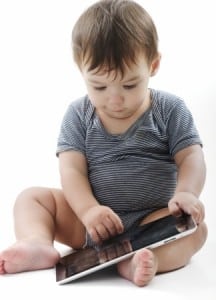 They were expected to be the biggest gift item of the year. They can be found in homes all around the world, and they're so easy to navigate and use that your average toddler can figure out how to use them. They're used to entertain children on car rides, in restaurants, at grocery stores, and even so mom or dad can prepare dinner or get about of housework done. And busy parents use them to keep up and manage their personal and social day-to-day lives.
Yes, I'm talking about tablets and smartphones. And not just the kind that are made for adults. While these high dollar items now come with parental controls, they're not the only way that children are gaining access to apps. Toymakers have capitalized on this hot item by manufacturing tablets especially for children.
Regardless of how big of a splash they've made among parents and kids, experts are expressing concern. They're worried that these devices will delay everything from language and normal development to social interaction, especially if the time spent on these devices is excessive.
For Dr. Dimitri Christakis, the concern is that tablets have only been around for about three years now. This means that the research is still very much in its infancy. And even though these devices can and sometimes do provide more interaction than television, there's no solid evidence that time on these devices will provide any benefit to children. Moreover, any benefit that might be received cannot ever replace the benefits of engaging with parents or the world around them.
"The single most important thing for children is time with parents and caregivers," Dr. Christakis, a pediatrician at Seattle Children's Hospital, told Associated Press. "Nothing is more important in terms of social development. If time with the tablet comes at the expense of that, that's no good."
Dr. Rahil Briggs, a pediatric psychologist at New York's Montefiore Medical Center says that time on-screen needs to be limited, especially for young children because it can hinder language development. In older children, the concern is social development. The solitary nature of the activity means that children could be missing out on learning social cues or making friends. Unfortunately, because there's so little out there in the way of research, no one can really say for sure how much is "too much."
Yet, despite the concern from some experts, there are others that do believe there may be some value to the interactive possibilities of applications….if they're delivered in moderation, that is.
Jill Buban, dean of the School of Education at Post University in Waterbury, Connecticut, says that children already familiar with technology will fare better than those with limited technological understanding when it comes time to start school. However, she stressed that even the best of educational apps and tools need to be monitored by parents and limited. She suggests no more than 30 minutes at a time.
"There's so much media out there and so much marketing," she told Associated Press. "It's all about smart choices and research, whether it's an app on a tablet or a TV show."
Marketing is exactly where Susan Linn, director of the Campaign for a Commercial-Free Childhood, comes in. She says that parents should be wary of any app, game, or TV program that claims it's "educational" for babies or toddlers.
"Babies and young children are spending huge amounts of time with screen media when really what they need is hands-on creative play, active time and face-to-face time with the people that love them," Linn told Associated Press. "The best toys are the ones that just lie there until the child transforms them. If all children do is push a button, that's not the kind of play that promotes learning."
She and her group are well-known for their allegations against "Baby Einstein" videos. Those allegations resulted in refunds to consumers who had purchased the videos. Now, they are trying to get the Federal Trade Commission to examine the marketing practices of videos and apps like those created by Baby Einstein and others like them.
Sesame Street has been entertaining toddlers and children for more than 40 years ago. In that time, they've dealt with many questions regarding how much time children should spend with electronics. With apps featuring some of our favorite characters (45 apps and 160 ebooks that have given the company a huge boost in profits), it comes as no surprise that they are, again, facing these questions.
Scott Chambers, Sesame Workshop's senior vice president for digital content says that the apps and ebooks have given them a chance to provide a more customized and interactive educational experience than they ever could have imagined when first airing the show. However, he says that some of their apps do encourage children to put down their devices, and others, like Sesame's new "Family Play" app actually encourages children to interact with their parents, rather than the tablet or smartphone.
"It's a balancing act, but all we can do is try to provide a good enriching media experience wherever parents and preschoolers may be," Chambers told Associated Press.
Related Articles:
---
[ad]