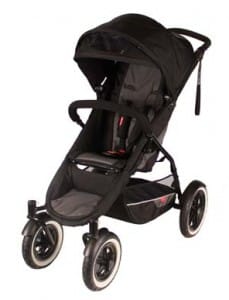 Phil&teds has finally given us the Hammerhead, their 4-wheeled version of their very popular inline. The Hammerhead offers the updates available with the new Explorer plus a 4th wheel for a bit more all-terrain capability. Another slight difference is with the Hammerhead's double kit seat. This version also ads the new canopy, but also has a zipable recline like the older doubles seats. Being very fond of 4 wheelers, I've been waiting to give the Hammerhead a try for a very long time. So I was thrilled when it was finally ready to go. I was even more thrilled when I found out that it now had the new one handed fold, "flip flop-friendly" pedal brake, new follow the sun hood and the seat performance system. I had tried all on the new Explorer, so I already knew how great they are. I was very interested in seeing just how adding a 4th wheel would alter the performance of the Explorer that I had just tested. Would it still be as light and nimble? Would the added wheel make for a sturdier 4WD phil&ted that would handle the rough bumps and jumps that we often pop over on a daily basis around here and would it be that much better suited to snowy, icy winter walks to school that I'm already dreading?
Assembly
Just like the Explorer there's not much to do out of the box, just add 1 more wheel to the very simple procedure. It takes about 10-15 minutes at most to put together, including adding the double kit seat.
Features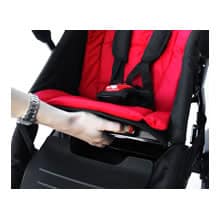 The Hammerhead offers 4 – 10 inch air tires, a follow the sunhood with pop out sunvisor, one-hand easy, fast fold with automatic lock, pedal brake, adjustable handlebar, easily adjustable slide & lock harness, removable bumper bar, the new Seat Performance system with increased postural support and an all new one-handed seat-recline provides infinite adjustability between upright and lie-flat positions, the option to use an infant car seat with the double kit seat and an optional reclining double kit seat with a sunhood. The stroller is available only in charcoal with black, but optional seat liners in the other phil&teds colors are available to switch out for a punch of color. It does not have the new plastic footwell that the Explorer has, however.
In Use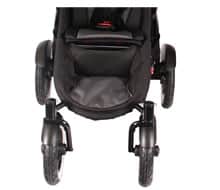 The Hammerhead is a rugged addition to phil&teds line. During our test runs we didn't find that performance was in any way hindered. It's not any heavier or harder to push.  It might feel a bit slower up front, but that's just the nature of a 4 wheeled stroller. It's just a slightly different type of steering, so going straight from the one to the other as I did, you will notice a slight difference. However, if you take it on it's own, it's still a light easy to maneuver stroller that is just as fun to use with one rider or two and takes any bump in the road, broken sidewalk or rough, muddy mulchy bit of path without hesitation. The Explorer is pretty good too when it comes to a rough sidewalk, but the Hammerhead definitely has an advantage on rougher off-road terrain like mud, wet mulch and soggy grass. It really is a more 4WD version of the Explorer. You won't really miss much, you'll just get a bit more sure-footedness from that extra tire surface area on the rougher bits ahead of you. Beyond that it's very much the same as the Explorer or your other phil&teds 3 wheelers with its 7 in 1 adaptability for one or two children. The only other time you will notice the difference is when you fold it and you have the 2 front wheels to tuck in instead of one.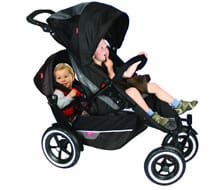 The double kit seat is just as easy to pop on and off, has the same new canopy as the Explorer seat, but does add the recline. The 2 sides unzip and the seatback slides through the seat frame to form a little indented area. It would be great for smaller children when they are just starting out in the seat. However, the unreclined seat angle is still quite reclined enough to be comfortable- not too far back, but just enough to keep a napper from falling forward. The seat does feel like it sticks out a bit further than on the Explorer, especially when reclined. I didn't kick it consistently, but I felt like I had to be more aware of it to keep from bumping into it on occasion.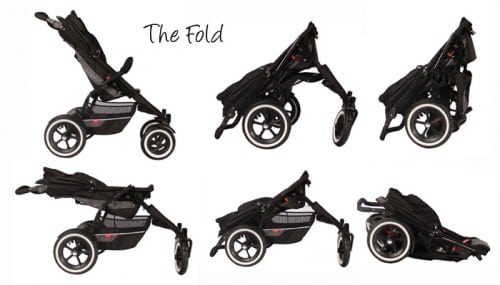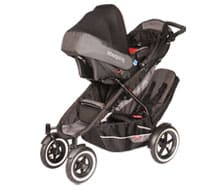 The Hammerhead is a nice addition to the phil&teds line and a great option for those who aren't as comfortable with three wheels, but still want that inline flexibility. If you're trying to decide between the two it really just comes down to preference- 3 or 4 wheels, everything else is pretty much the same great stroller that you've come to expect from phil&teds.  It is perfect from birth with lots of options like the peanut bassinet, cocoon or the infant seat adapter(Chicco, Peg Perego, Maxi-Cosi & Graco) and will grow with your family through the second child.
Specifications
product weight: 27 lbs/ 12.5kg
capacity ~ main seat: 45 lbs/20kg
double kit ~ front load – 45 lbs/20kg, rear load – 35 lbs/15kg
Width: 24"/62cm
Folded (wheels off):
31" x 20" x 9.5"
79 x 52 x 24cm
---
[ad]