When parents are looking for a double stroller there are so many things that they consider, size, versatility, configuration options and ease of use.  Canadian manufacturer Stroll-air has designed a double stroller that will accommodate families with twins, an infant, and a toddler or two toddlers.  Perfect for any outing the 'My Duo' will go anywhere you go!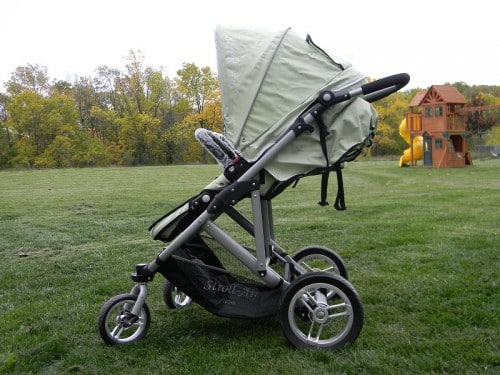 Getting Started:
Out of the box, the My Duo is VERY easy to assemble.  Simply unfold the chassis, attach the wheels and the seats and you're ready to stroll.  It literally will take you under 5 minutes to assemble.
Features:
The My Duo is designed for children from 6 months to 40lbs (per seat) making it extremely practical for a long term option.  That being said, with the purchase of either the car seat adaptor(s) ($49.99 ea) or the bassinette ($149.99 ea) you can use the My Duo from birth – up.   The features available on the My Duo are numerous from a lightweight aluminum chassis and quick release wheels to a VERY large shopping basket with 3 pockets, adjustable handle and separate hoods for sun protection – Stroll-Air really has thought of everything when designing the My Duo!
Since finding out we were expecting our second child I have been on the look out for the perfect double stroller.  I'll be the first to admit though that I was very sceptical about a side by side stroller – my thoughts were always that they were too big and bulky, hard to maneuver and I really believed that having my kids side-by-side would just cause them to fight and bicker… well Stroll-Air has managed to take all of my naive thoughts and turn them around!
By far the best feature of the My Duo is the fact that is has two independent, reversible seats making the configurations practically endless.  Stroll-Air was the first company to create a stroller that would allow for not only two infant car seats side by side but the first to present so many options for seat/bassinette configurations.  The independent seats mean that your children can face you or face away from you (or one of each!)  It also means that you can keep an eye on your newborn while your older child can easily view the world if they want to.  You really can't fully appreciate how wonderful this versatility is until you've tried it for yourself.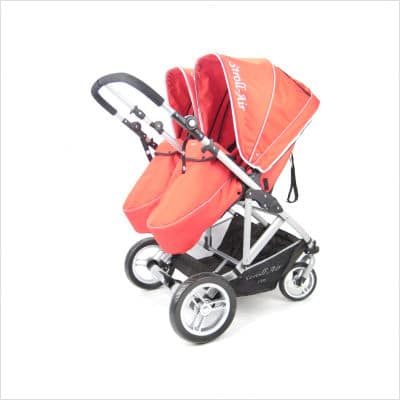 The seats themselves have so many amazing features, from a 5 point adjustable safety harness, to two separate vented hoods that allow for weather protection for each of your children.  The seats recline in multiple positions right down to a full recline for napping children.  They also feature a flip-open removable bumper bar which is awesome.  And while this bar is great for some people and some children, I personally have removed it from my oldest son's seat as he always puts his feet up on it and tries to kick it and gets it dirty (yes, I'm a bit of a neat freak).
The recline on the seat(s) is very convenient.   The one-pull release is easy to use and smooth to slide and won't wake a sleeping baby. Plus, each of the hoods completely cover the seat protecting your child from the elements, but the sides of the hood can also be lifted to expose a mesh lining that is breathable which is great for those really warm days.
To adjust the seating configuration you simply have to press the red buttons on each side of the seat and lift up, turn the seat in the desired direction and attach it by aligning the brackets on each side of the chassis and press down until they click and lock into place.
The lightweight aluminum chassis is so important and a great feature.  A common concern for many parents with a double stroller is the weight.  I was pleasantly surprised upon picking up the My Duo that it weighs under 30lbs with both seats attached… that makes it about the same weight as many of my single strollers.
Anyone who knows me knows how picky I am about the comfort factor for mom/dad when pushing a stroller.  Nothing is worst than kicking the stroller frame or having your arms ache because a stroller just doesn't fit you right.  Stroll-Air obviously was thinking of these very problems when they designed the My Duo with an adjustable handlebar.  This means that either my husband or I can adjust the handle to our own comfort and we don't have to worry about kicking the chassis.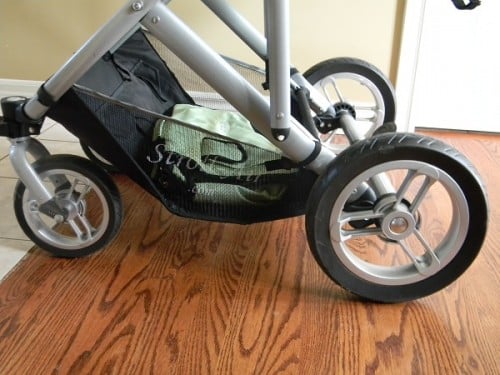 The My Duo features front and back suspension and this coupled with the 360 rotating front wheels with locking mechanism makes for a much smoother ride and allows it to easily handle almost any terrain.
In Use:
The frame opens easily.  Simply press down on the brake with your foot and pull up on the handle until the chassis' locking mechanism clicks in and the chassis locks in the open position.
As I mentioned I was really concerned about the size of a double stroller and how easy it would to get around.  I had images in my mind of going into shops and knocking over displays or not being able to fit easily down aisles.  I'm happy to report that one of the nicest features of the My Duo is that it fits through a regular size door because it's only 29 inches wide!  This means that there is no need to open two doors to fit inside.
I've also been very impressed with the turning radius.  Its two front wheels turn 360 degrees making it pretty easy to get around and maneuver in tighter spaces.
For parents of a newborn or twins I highly recommend purchasing the optional infant seat adapters.   They allow you to easily move your baby from the car to the stroller without having to wake them up.  When it was introduced, the My Duo was the first stroller that would allow parents to place two infant seats side by side and Stroll-air has been able to do this without compromising the narrow size of the stroller.  Their car seat adapters are designed so that one sits high and the other sits lower while both car seats can face the parent for easy viewing.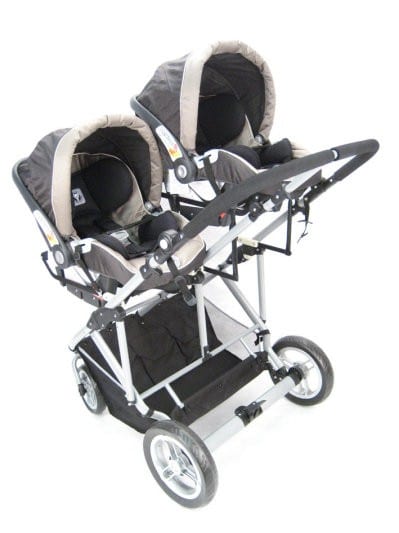 The parking brake is very easy to use; just simply press the brake bar down with your foot to lock into place. To release, lift up on the foot pedal with your foot until the brake springs up into the fully unlocked position. Having a braking system that can be activated with your foot is very handy, as a parent your hands are full 75% of the time so being able to easily maneuver the brake system with a free appendage is a bonus.
One of the features I love on the My Duo is the storage!!   The cargo basket underneath the seat is massive and will easily hold everything we'd need for a day out and still had room for extra things we picked up along the way.   The cargo basket also features 3 pockets that can store items you want to find quickly or have extra easy access to.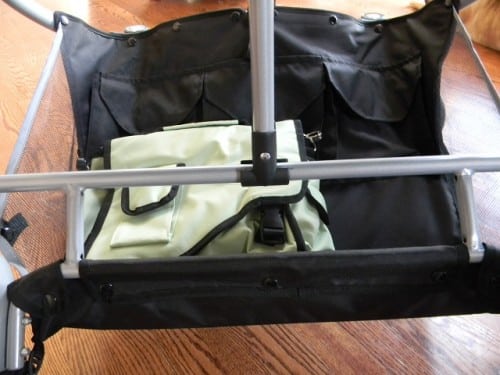 To fold the My Duo you have to ensure that the front wheels are away from the handle, pull up the mid slider (on the handlebars) until it locks and then pull the two sliders on either side of the chassis simultaneously until the locking system is released.  Then fold down the chassis until it is fully folded.  You can attach the transport strap on each side of the frame to keep it from unfolding.  Also, once the transport straps are attached the chassis can stand up on its own.  Note: The chassis can be folded with the seats on, however, the seats need to be in the forward facing position.
Retailing for $799.99 some people may consider the Stroll-Air to be a little pricey, however, if you consider that you're getting three strollers in one it makes it worth every penny and the ideal stroller for parents of more than one child! Because the My Duo has the potential to be used from birth –up you won't have to worry about having to purchase another stroller when your child gets bigger.  In addition, it comes with more than any other stroller we have tested including 2-foot covers, a diaper bag with changing pad, 2 front bars, large shopping basket with 3 pockets, 2 mosquito nets and 2 rain covers.
We had the opportunity to use My Duo in a number of conditions and in all of them it held its own.  While I wouldn't necessarily recommend that you do a lot of "off roading" with it, it can easily get around on most surfaces.
Available in three colors (Red, Black & Green) the My Duo provides the versatility, functionality, and longevity that parents are looking for.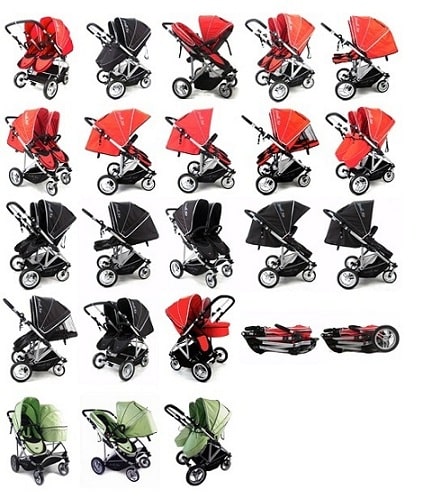 Pros:
Huge variety of seat configurations
Tons of added accessories help save money
Massive storage
Wish List:
Dimensions:
stroller chassis 13lbs (19 lbs. with wheels)
stroller seat 5 lbs.
stroller seat with wheels and seats 29 lbs.
width 29 inches
handle height adjustable from 27 to 44 inches
folded size: 29 x 29 x 11 inches
Seat:
backrest height 22 inches
seat to hood top 24 inches
seat width 11 inches
seat depth 9 inches
footrest length 11 inches
*Thank you to Stroll-Air for sending us this stroller for review*
Related Articles:
---
[ad]
Save