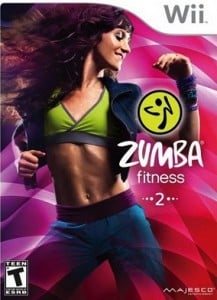 Before I had my boys I was a size 2 and was in very good shape, partly because I jogged twice a day and I was a dancer so I was always at the studio taking classes and going on auditions.
After I had my first son I still managed to jog on a regular basis but that all ended with the arrival of #2.  I try.  I really do, but I just can't find the time.  To help me get back in shape my husband bought me a Wii with the fit board and the DVD but I hate it.  All of the stop and start, the awkwardness of always needing to be holding the remote.  The board, needless to say has been sitting under my TV hutch for…well 2 years.
Last year I was introduced to Zumba and it was right up my alley.  Great music, fun dance moves and lots of energy. SO when I was asked to try Zumba Fitness 2 for the Wii I jumped at the chance.  Being able to customize my workouts was something that works for me because most days I only have about 15 minutes to workout and I don't always want to be moving at full tilt for the whole time.
To start you can just try a single song or a full class. After you set-up a profile you can then choose a short class(5 songs), medium length or full length class and customize your playlist.  Depending on what you are looking for you now have the choice of low, medium or high intensity.
The Zumba Fitness 2 disc comes with a belt that goes across your waist to hold the controller so it's not in your way.  The workout loads on the screen in about 20 seconds and you are ready to go. Where are you going to work out?  Poolside, on an LA roof top or in a NYC club?  Each workout consists of a series of songs that are 'taught' by different instructors.  You get about a 30 second break between songs while the new song loads which is nice.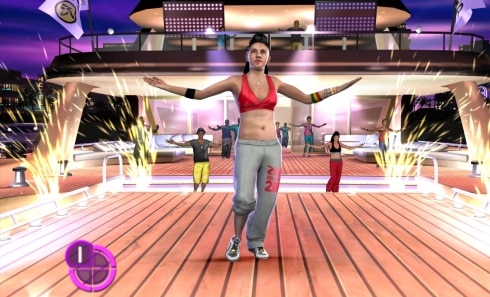 A couple things to remember before starting:
Stretch and warm up  – The instructors get right into it so it's important for you to be warmed up or you WILL pull something.
Put your runners on – There is a lot of scooting across the floor, bouncing and foot combinations, which are tricky to do if you are not wearing the right footwear.
Clear the kids out – The music in these workouts is both good to workout to and fun to dance to.  My kids were immediately drawn to the living room but didn't understand that I'd be moving back and forth, forward and back so they were constantly getting in the way.
I don't find the steps in this video hard to do but they definitely work you out when they are repeated over and over again. The morning after my first workout, I could definitely feel it all over. That's the best part. When you dance you work muscles that you didn't know you had.
Planning a trip down south this Winter?  Doing a couple of these classes will not only shape your booty but they will give you a chance to practice some moves in the privacy of your living room before you hit the lobby bar!
Zumba as a workout is definitely a good time, the Zumba Fitness 2 for the Wii is a bit better in my opinion because you have more control over the length, setting, pace and music choices. Low intensity may also be a good choice for expectant moms who are looking to stay fit but please check with your doctor first to make sure that it is right for you.
---