Goodbyn has created a unique new lunchbox that eliminates the need for extra containers rattling around, plastic baggies filling up traditional lunch pails and bags.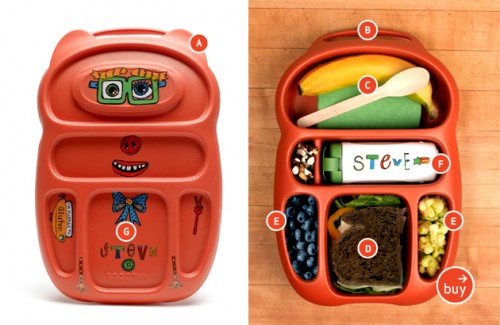 The Goodbyn lunchbox does it all, with 5 food compartments and a reusable drinks container as well. The top compartment is a good place for left-overs or fruits, even fitting a banana. The bottom compartment easily fits a sandwich, hummus or yoghurt, while the 3 other smaller compartments, fit sides and snacks such as nuts, berries, granola or crackers. An 8.5oz reusable bottle fits snuggly in the centre, and eliminates the need for throw-away juice boxes or milk cartons. The Goodbyn lid has "ears" at the top to aid little fingers in opening up the lunchbox, and a built in handle makes carrying easier. Best of all, each Goodbyn lunchbox comes with 3 sheets containing hundreds of stickers; alphabet letters, body parts and allergy labels, so that kids can personalize their lunchboxes. What kid doesn't love stickers?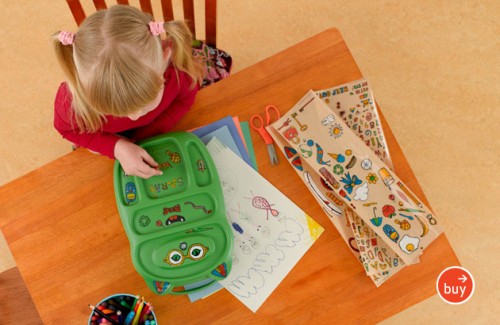 Goodbyn lunchboxes are completely dishwasher safe and, should the lunchbox finally come to end of its life, it is also recyclable! The Goodbyn lunchbox is available in two different lines. The 'Original Goodbyn' comes in red/orange, green, blue and pink, has ears to help with opening, and a sticker set. The 'Too cool for ears Goodbyn' is geared towards older children, and, as the name implies, this lunchbox doesn't have ears! It comes in charcoal, slate, ghost and plum.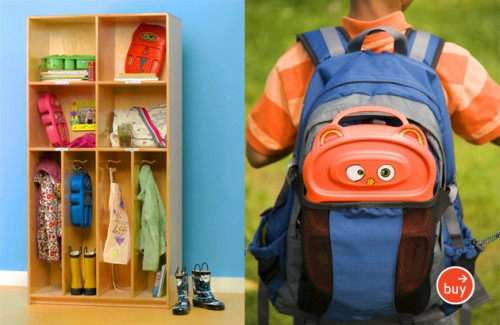 The Goodbyn lunchbox appeals to both kids and their parents, and makes "green" lunches even easier! – Belinda, Staff Writer

Related Articles:
---