If you're anything like me you likely enjoy taking your child for a walk.  It gets you a break outside the house, gives the opportunity for you and baby to get some fresh air and more often than not it calms a fussy baby down.  One of the challenges I have face, living in a semi-rural area, is that we don't have sidewalks where I live, and in the winter when the days are shorter, I'm concerned walking in the evening that cars on the road won't see me.  I've even gone so far as to where my husband's paramedic uniform so that the reflective material on his jacket will light up when cars are approaching.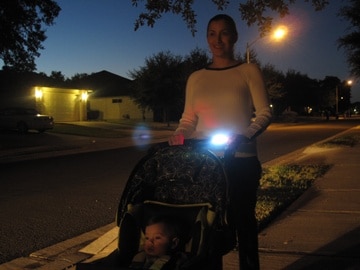 I recently discovered the new Abiie Snap Lite and LOVE the concept behind it.  It really would solve my problems and put me more at ease when I walk my son past sunset.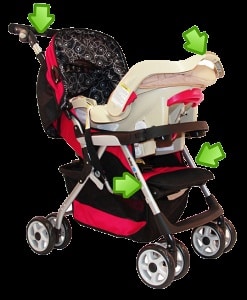 The Abiie Snap Lite is a simple little light that easily attaches to most strollers, infant car seats and ride-on-toys.  Its unique smooth strap holds firmly without scratching your favorite gear and will make you visible for up to 1 mile!
Very easy to install in a variety of places, the light has three functions: random flash, steady flash and beam with a runtime of 30 hrs (steady) or 220hrs (flashing).  As a bonus you don't have to worry about the elements, Abiie has considered that in its design; this 3oz light is weatherproof!
Whether you're looking to illuminate yourself while pushing a stroller or wanting your child to be more visible riding their bike or scooter check out the Abiie Snap Lite.
Related Articles:
---
[ad]