Just a few weeks ago I was introduced to WagJag.com.  If you are not familiar with what WagJag is, it is a website that offers services or products in your city for a reduced rate – most times more than 50% off. When you visit the site it will automatically detect your location and show you the deals in your city.
As we get closer to the holidays getting into the mall is more of a hassle, especially when you don't know what you'll be getting.  WagJag has a section for the holidays that allows you to pick a gift that is not only perfect, but highly discounted.
In total there are currently 76 offers for those who live in and around my city and they vary greatly from recreational packages for golf or skiing to jewelry and photo processing.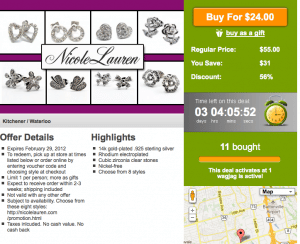 To try out this service I chose '$24 for a Pair of Earrings from Nicole & Lauren'.  I only wear stud earings and I've lost the last couple pairs that I've liked recently.  When I saw this offer I knew it was the one that would fit me perfectly.
Upon getting my 'code' I followed the link from the deal, chose the style of earings I wanted and redeemed my code.
Even though the shop is in Toronto, an hours drive away, shipping was just $5, which was reasonable.
I also like that if I wanted, I could have taken until February 29th, 2012 to redeem my deal.  This gives the person you are gifting it to some time after the Christmas rush to pick their present.
Because every deal has a different expiry date, make sure that you check if that time frame works for the person you are buying for.
It's worth noting that some of the Summer activities like Golf packages have generous expiry dates like next Fall, while offers for beauty packages are good for just a few months.
This morning I lined up with 300 people to get into Costco when it opened at 10am.  After we all poured in, a couple of the gifts that were on my list, were no longer on the shelves.  When you purchase something with WagJag.com you know that it will be available if you have a code.  Plus, there is also no stress of waiting in line to check out and you can buy the deal at midnight of Christmas Eve if you'd like and not look like a schmuck.
Related Articles:
I am participating in an influencer program with EverytingMom to support WagJag for the holidays. Although I have been compensated for my time to write this post, the opinions expressed are purely my own.
---
[ad]