When it comes to co-sleeping, some experts say do it while others say not to. Almost all experts agree, however, that keeping your infants near you at night can be very beneficial for both baby and mom. One of the best ways is with a great side crib, like the Bednest Baby Crib.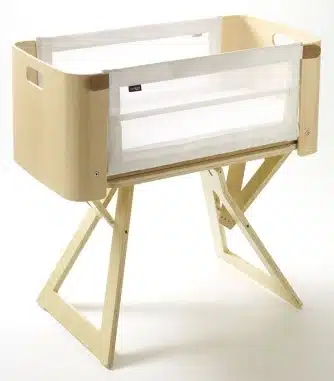 A side crib is a separate crib for your baby that attaches to your bed. This gives you all of the closeness of co-sleeping, while still keeping your baby in a separate sleeping place. Perfect for breastfeeding moms who do not want to have to get up often at night, parents of ill infants who need to be close at hand, or any parent that craves closeness at night while not interested in full co-sleeping.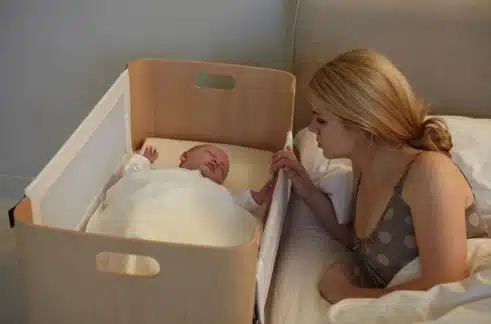 The Bednest is a unique type of co-sleeper crib in that is was designed for older babies as well as newborns. Most bedside cribs have a side that is detachable or folds down to allow easy access to the infant at night. Unfortunately, after a few months the baby starts rolling over and many parents have to move quickly to a regular crib. For some, this may be quicker than everyone is ready to. The Bednest, however, has a side that not only folds down, it also folds in half. This half side will provide safety to a rolling infant without coming between parent and child.
The Bednest attaches securely to your bed frame with a sturdy strap. It can be adjusted to match the height of any bed, and folds down easily for storage or travel. In fact, the Bednest comes with a durable travel bag that lets parents bring it with them whenever they travel. The Bednest can also be used as a stand alone crib when both sides are raised and locked into place.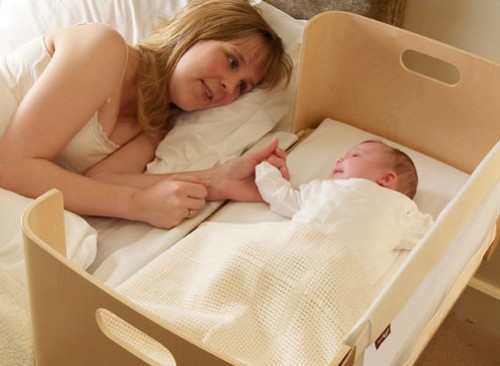 The Bednest has been redesigned and is brand new for 2010. Taking into consideration all of the research on co-sleeping, bed sharing, and night bonding, Bednest made every effort to create a bedside co-sleeping crib that provides the best of everything for parents and babies. This is one crib that should be on every mom-to-be's wish list. – Summer, staff writer
---