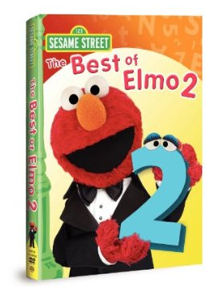 As a follow up to Sesame Street's popular DVD Best of Elmo, Warner Brothers has put together a second video aimed at teaching both young and old about the importance of friendship and helping others.
In Best of Elmo 2, Elmo meets a robot who is losing his power. To help his new friend "Memorybot" regain his powers, Elmo gladly shares memories of his special times with friends like Jason Mraz, Adam Sandler, Destiny's Child, David Beckham, India Arie, Jack Black and Ray Charles.
My boys, who were just recently introduced to Elmo, were excited when the movie arrived. Even though they are not familiar with many of the artists in this special they were immediately excited with each segment. Some of the words to these popular songs have been changed to teach different lessons for little ones. Jason Mraz sings about playing outside, Ray Charles about believing in yourself, India.Arie does a beautiful rendition of the alphabet, while David Beckham teaches Elmo persistence. All designed to 're-fill' Memory bots memory and give him more battery power.
I highly recommend this video for any little one who is a music lover. It is filled with lots of entertainment and education with a celebrity twist and while it is aimed at kids I guarantee you will be singing the catchy songs as well! I am now looking for the original Best of Elmo video to add to our collection.
$11.99 @ amazon
Please visit sesamestreet.org for more information
---