Moms who want a discreet way to tote diapers while they are for a quick trip to the mall or store may consider a diaper clutch.
These fashionable bags are not only petite but they are practical. All of the ones listed below included a change pad, have room for a couple diapers and wipes.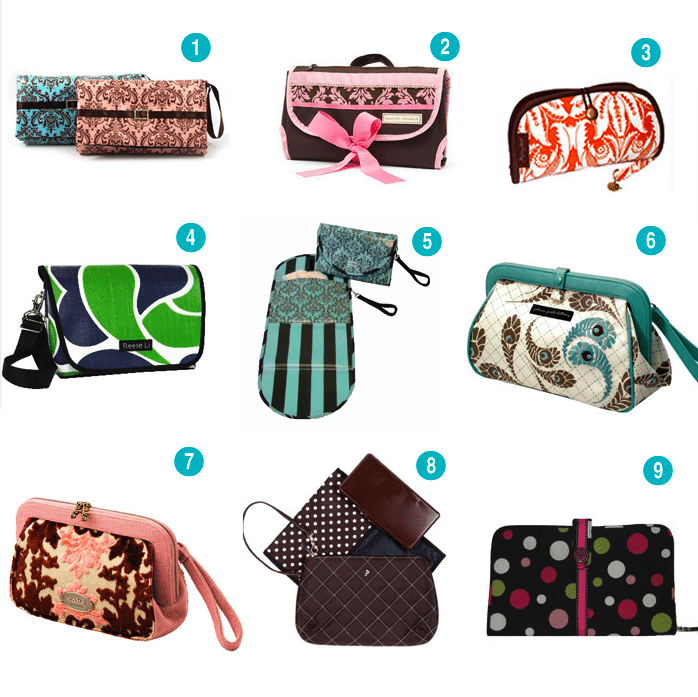 Paisley Diaper Clutch –

This stylish Diaper Clutch easily unfolds into a changing mat and can store diaper and wipes. The clutch is fully laminated for easy cleaning and makes changing diapers a breeze! $30

Danielle Elizabeth Pink Damask Diaper Clutch – This clutch has elastic pocket inside for diapers, a zipper pocket inside for items such as wipes and ointments and a zipper pocket outside for personal items It also includes an Oilcloth changing pad.
Clairebella Diaper Clutch – this clutch unfolds into a changing mat. It is fully laminated for easy clean up, holds 2-3 diapers, a small pack of wipes and has two smaller pockets for cell phone or keys. available in 9 patterns $70
Reese Li Diaper Clutch – This small clutch can hold 3-5 diapers, changing pad, wipes case, diaper rash ointment, & cell phone. As an added bonus, there is a little 'brag flap' shows off baby's picture to family & friends.$60
Petunia Pickle Bottom Cross Town Clutch – this chic clutch has a water resistant lining. It has a Diapers/wipes pocket, Ointment/cream pockets, a Fold-out, snap-out, wipe-able changing pad. Also includes a Petunia Pickle Bottom monogrammed wipes case. Available in 9 fabric patterns
Joya Baby Diaper Clutch – This Nylon pouch holds 2-3 diapers and a soft travel wipe pack. It includes a large machine washable changing mat that rolls up inside and an extra pocket behind wipe envelope to hold money or cards. Available in 6 patterns $54
Petunia Pickle Bottom Cake Cameo Clutch – This clutch has a Diaper/Wipes pocket and Ointment/cream/pacifier pockets. It includes a fold-out, detachable, water-resistant changing pad and detachable inner zippered coin purse.
JP Lizzy Chamelia Diaper Clutch – This clutch is made of quilted wipeable microfiber. For your convenience there is an exterior zippered pocket , coordinating changing pad, diaper wipes case and a divided interior pocket to hold cash, credit card, cell phone ot lipstick holders. $38
Lollipop Kisses Diaper Clutch – The interior contains two pockets, each large enough to hold a travel case of wipes and 2-3 diapers. There is also a small pocket that you can use to hold your drivers license and credit card.
---