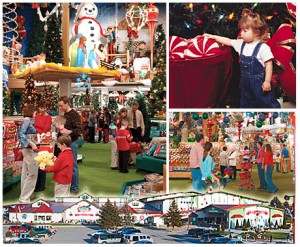 For many families, it's important to set the stage for the holidays by making their home decor more festive.  You can deck your halls with boughs of holly, spread cheer with sparkle and whimsy, or inflate a giant snowmobiling Santa in your front yard.  Whatever your taste, it's always fun to shop for holiday decorations.
If decorating for Christmas gives you the same charge it gives me, you'll absolutely want to swing by Bronner's CHRISTmas Wonderland.
Bronner's isn't just a store; it's a full blown tourist attraction and has been a vacation highlight, for my family, for the past three years. It's located in Frankenmuth, Michigan, which is an adorable Bavarian-esque town, with plenty to offer vacationers of any age.
Bronner's is open year round, so you can explore now, or stop by while you're on your summer vacation next August.  Whenever you can schedule the trip, go for it, the kids will have a blast.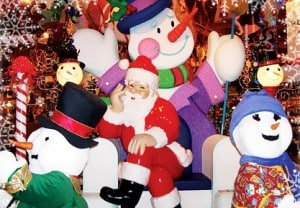 Touted to be the largest Christmas store in the world, Bronner's is 5 ½ football fields of holiday madness.  It's like a Christmas bomb exploded in Michigan.  They have everything you could possibly need or want for your holiday collections.  Trees, stockings, lights, countdown calendars, Santa suits, they have it all and then some stuff you never even thought of.
They can personalize many of their ornaments with names, a date, or a special sentiment. They have a wide selection of religious items, licensed ornaments and decorations to fit in with almost any occupation, hobby or lifestyle.  They also have a range of decor items for celebrations other than Christmas.
The store itself is dazzling.  Christmas music plays throughout.  The grounds feature a panorama of lights that sparkle every night of the year.  There is a replica of the Silent Night chapel in Austria.  And, there are life-sized Santas absolutely everywhere.  It's a magical place to visit with your children.
But, if you live in (oh let's say) Albuquerque, and you simply can't make it to the store because New Mexico is really, really far from Michigan, take heart.  They have a website.  It's a one-stop-shop for your holiday decorating needs.  The website doesn't have the same atmosphere, but it has massive variety so you'll certainly find what you're looking for.
Bronner's CHRISTmas Wonderland has become a bit of an annual tradition for my family.  When we visit, we each choose a new ornament to add to our tree and we inevitably pick up some other odds and ends.  It's the perfect place to start your Christmas preparations and to get everything you need to set the stage for a memorable family holiday. –  Jen R, Staff Writer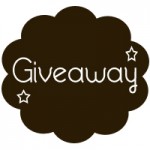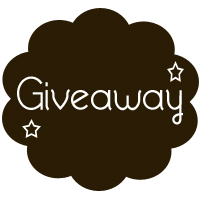 GIVEAWAY! Bronner's CHRISTmas Wonderland is offering 1 Growing Your Baby Reader the opportunity to win a $40 Gift Certificate.
Congratulations to our winner: Nicole L.
---