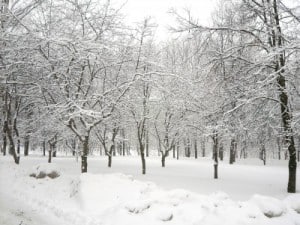 This Winter has been a mix of slush and snow.  It has gone between -14 to +6 in the last 10 days and somewhere in between we've had a lots of messy days.
Because I'm not really a jump in the puddles kind of mom we've been spending a lot of time indoors and I have to say the kids are climbing the walls.
I have, however, been hitting the craft store and buying DIY wood projects that they can paint and decorate for friends and family.  It really is fun watching them customizing their own treasure boxes with sparkles and stickers.  Best of all a set of these wooden boxes costs less than $5.
Play dough has also saved a few crazy days.  Over the years we have amassed quite a collection of tools to use with this magical dough.  They love to mold, squish and mix every color we have in the house leaving us with a pile of brown dough at the end, but two incredibly proud monkeys.
I also put away some the toys they got for Christmas and have been bringing them out slowly.  This is good because I put them away again after so they can be my secret weapon when all else fails.
Because I work at home I am often running around getting stuff done in between breaking up fights.  Having a few go-to activities helps the day run smoothly, while giving us all some time to do stuff together.
Parents who are out of ideas might like to check out Fisher-Price's Play and Learn Family Activities page.   They toy manufacturer offers games for kids up to 6.
Related Articles:
"Disclosure: I'm part of the Fisher-Price Play Panel and I receive special perks as part of my affiliation with this group. The opinions on this blog are my own."
---
[ad]