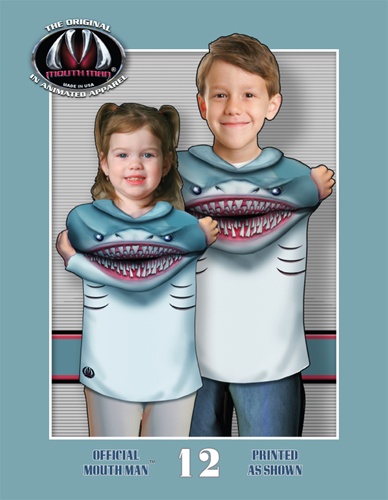 From rock music to Mouth Man kids' hoodies, Ross Valory, founder of the band Journey, is a man of many talents! The seed for these unique hoodies was planted a number of years ago when Valory watched a friend's children playing at being monsters, creating snapping jaws with their arms crossed, elbows pointing forward and hands on their shoulders. Fast-forward 20 years, and as Valory found himself with his arms crossed the same way, the idea of Mouth Man hoodies took shape.
Mouth Man designs include a gecko, shark, raptor, frog, dog, cobra, gator, tiger, orca whale, and T-rex. Without the sleeves crossed, the shirts have either the whole animal on the front, with the mouth closed, or just the belly of the animal, as is the case with the shark, cobra, gator and tiger. Once the sleeves are crossed however, an open mouth appears on the elbows, and kids are transformed into chomping critters!
Mouth Man hoodies are printed with eco-friendly dyes on recycled fabrics, and are made in the USA. Great for boys and girls, Mouth Man delivers a toddler hoodie designed for a chompin' good time!
---