The traumatic chain of events starting with the death of an infant when his father forgot him in the car on 18th June do not seem to end. After police arrested 33-year-old Justin Ross Harris for the negligence, they now believe that this could be a more serious crime.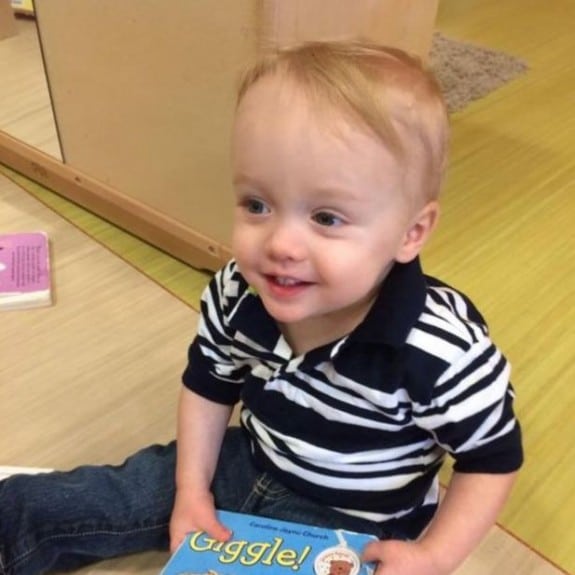 On June 18th Harris was supposed to drive his 22 month old boy Cooper to day care. But the father drove reportedly straight to work, forgetting that the toddler was strapped in his seat. After spending the entire day at work when he returned in the evening, he drove to a nearby shopping centre and hysterically asked for help for his son, who had died.
The dad's story, however, doesn't seem to add up others say. Eyewitness Edward Cockerham, told the DailyMail,
'I was interviewed by the police last night and I told them I thought the guy was acting, he was really over-reacting to the situation.

'I know he had lost his baby but he was acting up more than he should have been. It seemed like acting to me. When he pulled in and people started asking him what had happened, he said that the baby had just started choking.

'But the baby didn't look like it had been choking, it looked like it had been sweating, like it had been in a swimming pool, his hair was all wet.

'I think the dad knew all along that his baby was dead because he'd been left in the car, I think he was looking round for a place where there was people so he could make it look like the baby had choked and it wasn't his fault.'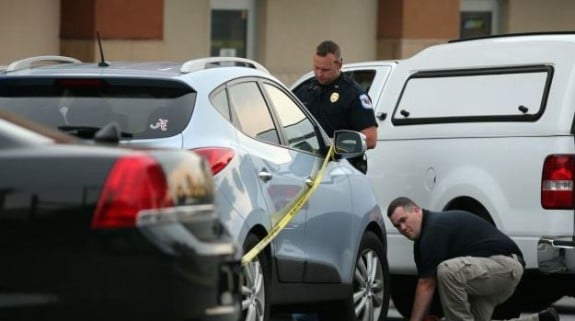 After the incident the Cobb County Police charged him with felony murder and was being held without bond on Wednesday.
Police chief John Houser said on Wednesday that they now believe that a more 'serious crime' was committed although the chief did not reveal many more details.
"The chain of events that occurred in this case do not point toward simple negligence and evidence will be presented to support this allegation," Houser said in a message released by the department.
The newly filed arrest warrant, supporting the murder charge, states that Harris stopped for breakfast with his son and also returned to put something inside the vehicle around lunchtime when the baby was inside.
The Medical Examiner's Office are still waiting for the toxicology report but initial investigations have suggested that the baby died because of hyperthermia when the temperature of the body rises due to excessive heat, trapped in a closed vehicle. They add that the manner of death was homicide.
The new warrant has however changed the charges on the father from first degree child cruelty to second degree child cruelty. Under Georgia law, first-degree cruelty to children requires that a person "willfully deprives the child necessary sustenance," while second-degree cruelty to children is caused by "criminal negligence".
Police say Harris put his son, Cooper, in a rear-facing car seat in the back seat of his Hyundai Tucson after eating at a Chick-fil-A restaurant the morning. It also adds that at lunchtime he came to put an object inside and opened the driver's seat door while the baby was still in the car. At around 4.15 pm he came back after work and drove to the shopping centre. Cooper was in the vehicle for more than 7 hours. The temperature that day was 88 degrees at 5:16 p.m., according to the first warrant in the case.
"They're definitely going to look at how healthy was the child, the family's previous history, whether dad was usually somebody who was very responsible," said Jessica Gabel, an associate professor of law at Georgia State University in Atlanta. "And the defense, if this reaches a trial, will be collecting their evidence that he was a good parent, a fit parent."
Even with the new details the community is rallying around the family.  Joe Saini, their landlord, said that the Harris' were a very nice couple who were in love with their baby.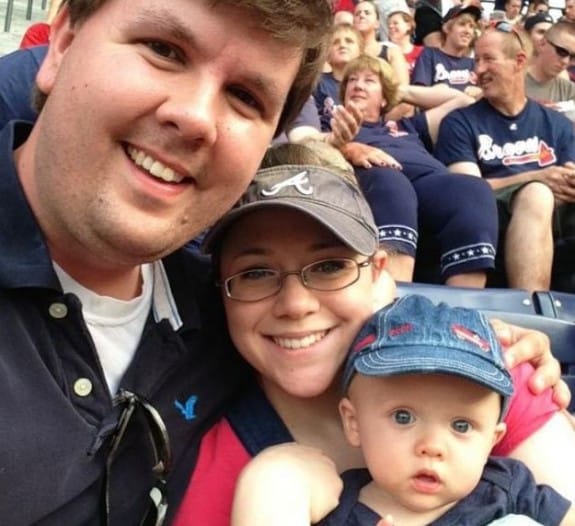 "Everything was going right for this couple," Saini said. "They wanted to buy a house so they could have some space for their child to run around the backyard."
Additionally a petition – posted on change.org has been created by a group called Parents Support Parents, and has garnered over 11,000 signatures from supporters urging Cobb County DA's Office to drop the murder charges.
With the investigation turning up new evidence every day it doesn't appear that is going to happen.
---
[ad]