Today was a bit chaotic on the Oprah Winfrey show. The talk show host was joined by my favorite TV couple and their 8 children.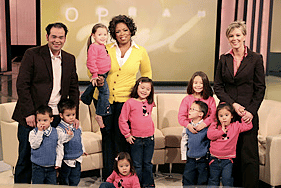 Jon and Kate Gosselin, along with their twins, Cara and Mady and sextuplets Hannah, Joel, Leah, Collin, Alexis and Aaden sat down with Oprah to discuss life with two sets of multiples.
Many of you know the family from their TLC show 'Jon and Kate Plus 8', which airs every Monday night.
In 2000, Kate gave birth to twin girls, Cara and Mady. Then, the couple decided to try for one more child.
"We got a little more than we bargained for—we got six more," Kate says. "We're considered a fertility nightmare."
At 5 weeks gestation, Kate had a feeling there was more than one baby growing inside of her.
"As soon as they flashed the ultrasound screen, I saw too many circles to count," she says. "I was thinking, 'These cannot be babies. There's too many.' I instantly went into shock."
Jon's reaction:
"He was close to tears, which he's usually very silent and strong," Kate says. "I thought, 'Now we're really in trouble.' … It sounds funny now, but at the time, our whole lives just flashed before our eyes."
Even knowing how draining – emotionally and financially – raising eight children would be but Jon and Kate say they never considered reducing the number of fetuses in the womb.
"When we went in for that [fertility] appointment, I said to them every time, 'Really be careful with us, because we're not doing that ever. It's not for us,'" she says. "Actually, right before that ultrasound, the last thing I said to [the doctor] was, 'Whatever you're giving me, we're taking.'"
On May 10th 2004 at an amazing 30 weeks gestation, in just three minutes the couple welcomed Alexis Faith, weighing 2 pounds, 11.5 ounces, Hannah Joy, 2 pounds, 11 ounces; Aaden Jonathan, 2 pounds 7.5 ounces; Collin Thomas, 3 pounds 0.5 ounces; Leah Hope, 2 pounds 14.8 ounces, and Joel Kevin, 2 pounds 9.7 ounces.

Now that the sextuplets are almost 4, the busy mom spends most of her time cooking healthy, organic meals for her family of 10.
"My day is make a meal, serve a meal, clean up a meal, clean up everything, wipe this one, change that one, deal with this one," she says
Kate's day by the numbers:
she runs the dishwasher two or three times a day
uses about 1,200 paper plates every month
do at least two loads a day, with the most being five a day
It took two days, six suitcases and three carry-ons to get the Gosselins from Pennsylvania to Chicago. When they travel, Kate says she fills luggage with treats, blankets, Crayons and toys to keep the kids busy during the flight. "Take tons of food," she says. "That's my secret for everything. When they're cranky, just feed them."
I love Kate's no nonsense approach to motherhood. The kids don't get away with anything in fact the couple says that "timeouts are as normal as blinking."
They may be out of the "terrible 2" phase, but Kate says the sextuplets' behavior has not improved. In fact, it's gotten worse. "Actually, 3s are rougher for us than 2s," she says. "Didn't you know? Three is the new 2."
If you would like to read more about the interview. Please visit Oprah's site.
Related Articles