Moms who are frustrated with their no-frills umbrella stroller will love the list of accessories we have put together.
All of the products listed below are universal products made to fit on most umbrella strollers.
These accessories will make your life easier when you are out at the mall or park.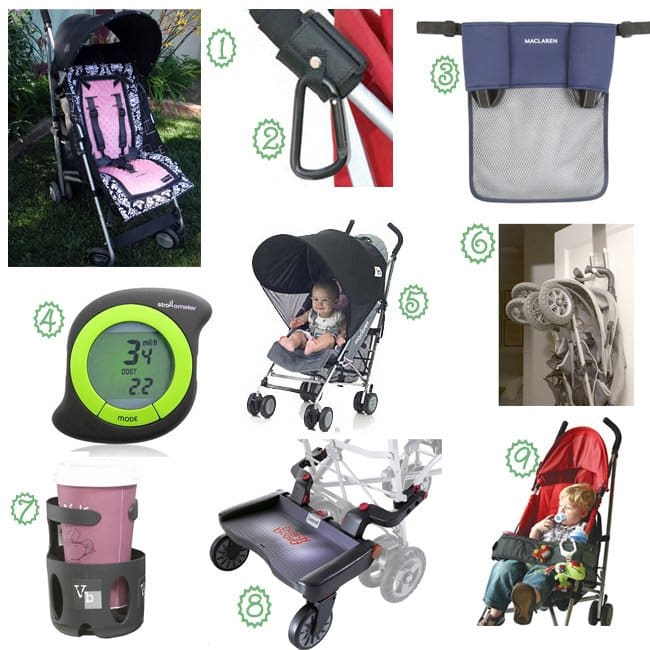 Booyah Baby Stroller insert – This unique stroller liner is padded so your little one can be comfy and ride around in style. Completely machine washable, and compatible with all the major stroller brands (Bugaboo, Maclaren, Peg Perego, Orbit & Graco) $69
Jl Childress Clip 'N Carry Stroller Hooks – These clips provide parents with an easy and convenient method to attach shopping bags, diaper bags, purses, and more to their stroller. The non-slip adjustable strap fits all stroller bar sizes and the spring-lock clip discourages theft. Packaged in a 2-pack.
Maclaren Universal Organizer is easy to attach to buggies using its Velcro straps. It all your baby essentials and two bottles.
The StrollOMeter – This eight-function, wireless stroller computer/speedometer helps you get the most out of what you're already doing: strolling. With an easy strap-on, strap-off design, The Strollometer is the must-have accessory for any new mom looking to get back into shape after pregnancy.$50
Protectabub Compact Stroller Sunshade – The tailored design of the compact sunshade is a slender version of the classic sunshade and perfect for the smaller, canopied strollers offering coverage on a smaller scale.

Metrotots Stroll Away –

Constructed of sturdy steel, the StrollAway will accommodate most stroller models, and folds flush to the door when not in use. Hang it on the back of the closet door. It will remain out of sight until your next jaunt.$40
The Valco Baby Universal Cup holder not only fits onto most strollers but also accommodates just about any size of drink container. A great option for any lifestyle.
The Lascal BuggyBoard-Maxi™ is designed to attach to the upright tubing of a stroller or to the frame of a pram with a width between uprights of 26 – 50 cm (10"- 20"). It is perfect for when the independent toddler, who likes to walk on his own, needs a bit of rest.
Jl Childress Belly Bar

encourages children to stay in strollers. It features 2 insulated holders for bottles, cups or food containers. There are 4 loops and 3 mesh pockets that hold toys and snacks.