Tulsa police officers leaving a morning squad meeting were caught right in the middle of the action when they saw fire at the Whispering Oaks Apartments. Thanks to their efforts, the officers were able to save the life of several residents including a baby dropped from a balcony and safely caught by a police officer down below.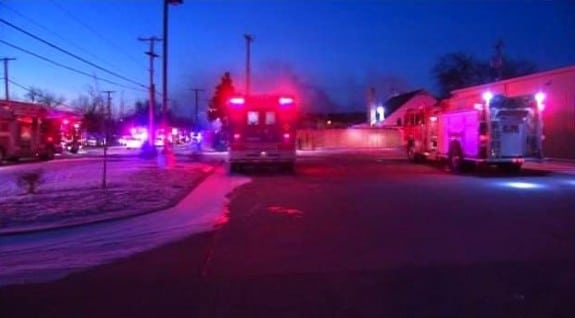 It was 6.30 am in the morning on Monday when residents noticed the fire at the apartments at 1140 S. 101st E. Ave. Tulsa police officers leaving a morning squad meeting also noticed the fire and rushed to help.
Cpl. Brian Collum said the officers "immediately ran over and started banging on doors trying to get folks out."
They also called the Tulsa Fire Department.
As many as 86 residents who evacuated were housed at the Tulsa Police Department Mingo Valley Division adjacent to the burning structure, said Fire Capt. Stan May.
Adrienne Smith and her boyfriend were also in the apartment building when it caught fire. As heavy smoke began crawling near their home, the mom dropped her toddler from the balcony. Thankfully for her and the baby, Tulsa Police Officer Alan Franks was waiting with open arms to catch the boy. He was only wearing socks and wrapped in a blanket.
"If he hadn't been there, I don't know what I would have done," Smith said. "Everything was engulfed. I couldn't see anything. I was screaming for help."
Adrienne and her boyfriend also escaped the fire, without any injury. The baby boy was also found to be unharmed.
A 19-year police veteran, Franks said this was the first time he was involved in a rescue operation.
"I was nervous," he said. "I was just thinking don't drop the baby."
At least 12 units of the apartment building were affected by the fire and two sustained damages due to heavy smoke and fire. Capt. May believes that some of the residents may return to their units once the power to the building has been restored.
Although no deaths were reported some residents were treated for smoke inhalation, Collum said. At least one person was transported by EMSA to a local hospital after he was found unconscious outside the building.
Resident Thomas Sanders was sleeping in a second floor unit with his two roommates.  He told news outlets,
"There was too much chaos, so much moving around, fire and smoke. I was just trying to get my roommates out."
The cause of the fire has not yet been determined, but thanks to the alert officers many lives including that of a baby could be saved.
---