In a rare event, a woman has given birth to a baby girl with two heads in the Chinese province of Sichuan.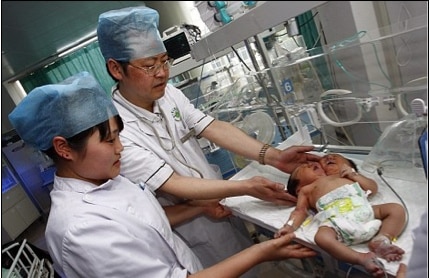 The conjoined twins, who suffer from a condition known as dicephalic parapagus, share a single body, two arms and two legs.
The birth of dicephalic parapagus (dibrachius )conjoined twins is extremely rare and only occurs in a very small percentage of babies born conjoined. Of the babies born with this lateral union only 10% arrive with 2 arms. Eighty percent are born with 4 arms(tetrabrachius), while the remaining 10% have 3(tribrachius).
While most of the cases of babies born with one body and 2 heads occur in southwest Asia and Africa, there have been instances of dicephalic parapagus twins being born in the U.S.
The most notable case is 21-year-old Minnesota twins Abigail and Brittany Hensel. The sisters have become media celebrities after being featured in television documentaries showing how they overcome daily obstacles.
We hope that these babies are able to overcome any issues that may arise and go on to be healthy twins like the Hensels. For now doctors will be monitoring them 24 hours a day.
Related Articles:
---