The Schwandt family just welcomed their 12th child. But this family isn't just big; it's a family full of boys! That's right, the new baby, Tucker Ray Schwandt, had 11 brothers, ranging from newborn to the age of 21, ready to welcome him into the world!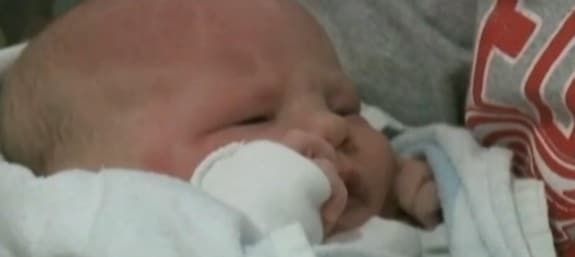 "I never imagined I'd be sitting here with my 12th child," Jay Schwandt, Tucker's dad told Fox 17.
By now, it's no surprise that mom, Teri, says she's got raising boys down – flow charts, chores, sports, band-aids, and all – but dad admitted that he was secretly rooting for a little girl, and had even encouraged some friends to "think pink."
But, as it seems to always work out for the Schwandt family, blue won out…though the family says they were still a little surprised, at least.
"We didn't know what he would be when he was first born," Teri told Fox 17. "We don't' find out. It's always a boy, but always a surprise."
And mom doesn't sound like she's too disappointed.
"I'm sure a little girl probably would be fun, but we now what we're doing," she said.
So what's it like living with all those boys? Teri says sometimes it's a bit like "living in a locker room."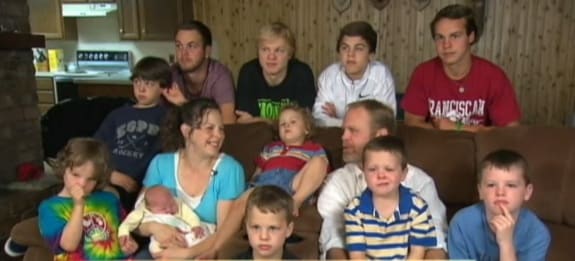 But the good-natured boys all seemed to enjoy their new brother…maybe because they already know what to expect.
"With boys sometimes it gets a little rough," oldest brother, Ty, who has a lot of experience in helping with the crew, told Fox 17. "Don't turn your back on them for too long."
He says that it's not always crazy though, and he admits that he's learned quite a bit along the way…specifically how to take care of a family later in life, and how to be responsible.
"I know how to manage time and manage a schedule and make sure kids get what they need to be and get picked up when Mom forgets every now and then," he said.
…Now, how could she forget? Oh! That's right! There's 12 schedules to keep up with!
Back to baby number 12, little Tucker…
His middle name, Ray, came from his grandfather, Ray, who shares the very same birthday! As far as his first name goes…well…that was a family affair.
"Maybe you wouldn't be surprised what some of the boys came up with," Jay joked.

"We almost had an Elmo," Teri added.
But it all worked out, and they all settled on the name Tucker.
Will there be more children for the Schwandt family? Jay says they're not opposed to the idea, and unless something medical comes up, there very well could be more somewhere down the road. And if a baby 13 should become a reality…well, Jay says he hopes that they finally do get that girl!
Related Articles:
---