Often when a couple starts to plan their family some of the things we tend to discuss are how many kids we would like to have, whether one parent will stay home with the kids, and where they will go to school.
Rarely, however, does a family's medical history come into question, unless a member of your family has been diagnosed with a rare disorder or genetic condition. But the truth is it is common for individuals to be carriers of 4-6 different recessive genetic conditions. If you and your partner are carriers of the same genetic condition, you have a 1 in 4 chance of having an affected child.
Horizon Genetic Carrier Screening can help parents understand their chances of having a child with a specific genetic disease before or during pregnancy, so they can plan ahead.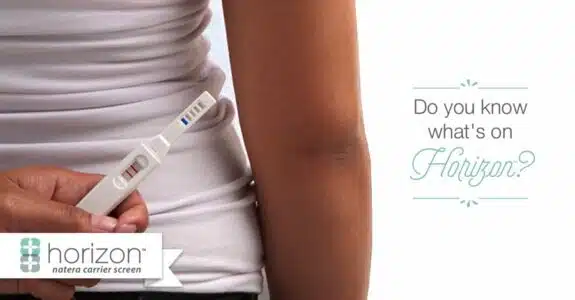 I am a planner. I hate being blind sided so this is something I would do in a heart beat.  Ten years ago my son was born with a rare brain disorder.  The team at his hospital did genetic testing on all three of us to shed more light on the situation, but the full results of the test were never shared with us.  Having a private test done means you hold the information.  And we all know – knowledge is key.
Horizon screens for up to 274 autosomal recessive and X-linked genetic conditions such as Duchenne Muscular Dystrophy or cystic fibrosis.
Duchenne Muscular Dystrophy often goes undiagnosed until age 5 when families could have other children who could be affected.
Early carrier detection helps couples make informed reproductive decisions and ensure that babies affected by these diseases get the best care possible including early therapy and intervention.
The screening can be done before or during pregnancy. Some couples may want to have more information about the chance to have a baby with a genetic disease before pregnancy.  You can also have the screening done during a pregnancy as well.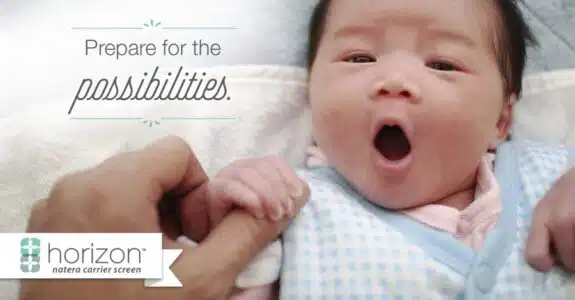 The good news is that carrier screening is usually done once as your carrier status for a specific condition typically does not change. But depending on what you have been screened for in the past, your doctor or genetic counselor may recommend an additional carrier screening for more conditions.

To learn more about Horizon, please visit their Website
You can also find them:
Disclaimer: This is a sponsored post. However, all thoughts and opinions are my own.
---