The 3-year-old named 'Adolf Hitler' who made news last month because a bakery wouldn't make a cake with his name on it, and his two sisters have been removed from the family's NJ home.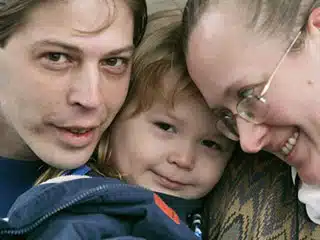 Adolf Hitler Campbell and his sisters, JoyceLynn Aryan Nation Campbell and Honszlynn Hinler Jeannie Campbell, were taken from their Holland Township, N.J., home on Friday by the state's Division of Youth and Family Services (DYFS).
Kate Bernyk, a spokeswoman for the DYFS, said confidentiality laws barred her from commenting on the case or even confirming that the Campbell children were involved.

"DYFS has their reasons and they normally don't release any information, so we kind of have to go on faith with them," Harris said. Police were not told what the agency was investigating.
The Campbells made national news last month when a ShopRite supermarket refused to sell them a birthday cake with Adolf Hitler's name on it. They were probably looking for support, but the story generated a slew of angry Internet chatter.
Many believe that is a form of child abuse to name your child after a public figure who disliked so passionately.
Sgt. John Harris of the Holland Township Police Department told FOXNews.com, "Part of it is the infantile nature of the parents' behavior. You can name your dog something weird, but they think they're making some kind of bold statement with the children, not appreciating that the children will have separate lives and will be looked at in a negative light until they're able to change their name. It is abuse."
Last year, a New Zealand court removed a 9-year-old girl from her parents in order to change her birth name: Talula Does The Hula From Hawaii. In that country, officials do not deem a name abusive unless it causes serious bullying.
Heath Campbell, the children's father, told the Easton-Express Times last year that he named his son after Adolf Hitler because he liked it and "no one else in the world would have that name."
New Jersey officials said Wednesday that it is not just a matter of names.
"DYFS would never remove a child simply based on that child's name," Bernyk said.
---