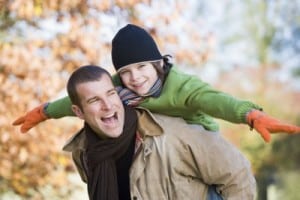 Calling all Super Dads! If you've ever doubted that your hand-on parenting can make a real difference to your child; this one's for you!
In a small study published in the Canadian Journal of Behavioural Science, Concordia University researchers took a look at the how father/child relationships impacted the emotional well-being and intellect of their children later on. What they found should really make you feel good about the time you spend with your child.
A total of 138 children and their parents participated in the study. Researchers assessed the children in two different sessions – one between ages three and five, one between ages nine and thirteen. Families from various income levels were included in the study as were families in which the father was present, living in the home; present but not living in the home; and not present.
Each child completed an IQ test and mothers completed questionnaires that included information on the child's home environment. Teachers were also recruited to observe the children outside of the home. This gave the researchers, "a somewhat more independent source of information than mothers, fathers or children themselves because a father's absence can result in home conflict, maternal distress and child distress."
According to Erin Pougnet, a PhD candidate in the Concordia University Department of Psychology and a member for the Centre for Research in Human Development, "Compared with other children with absentee dads, kids whose fathers were active parents in early and middle childhood had fewer behavior problems and higher intellectual abilities as they grew older – even amount socially-economically at-risk families."
Pougnet also added, "Regardless of whether fathers lived with their children, their ability to set appropriate limits and structure their children's behavior positively influenced problem-solving and decreased emotional problems such as sadness, social withdrawal and anxiety."
Girls with absent fathers seemed to be impacted more in their behavior and intelligence than boys but problems were present with both boys and girls. If, however, the father is not present, Lisa A Serbin, professor in the Concordia Department of Psychology and CRDH member state that, "there are definitely many alternative ways to raise a healthy child. Some kids with no contact with fathers, or distant dads, do well intellectually and emotionally." Serbin added, "Mothers and caregivers are also important….no doubt fathers have a major impact…[but] kids don't necessarily do poorly without their fathers."
For fathers that are present, however, the University hopes that the findings of the research will spark some encouragement for governmental policies that could help enhance the relationships between fathers and their children.
"Initiatives such as parental leave for men and parenting classes that emphasize the role of fathers could help to maximize children's development to early childhood to preadolescence," said Serbin.
Still, you don't have to wait for a governmental policy. A lot of Super Dads out there are already stepping in and spending that all important time with your children. And, just in case you feel like you haven't been doing enough or you feel guilty for not spending enough time on your children, relax…be kind to yourself! It's not too late to jump in the game. Start spending some quality time with your kids today!
Related Articles:
---