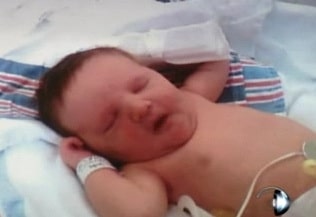 When Jody Woods and Joshua Sutterfield welcomed their baby boy Devon on October 19th, they knew something wasn't right.
"Right when he came out he was squeaking when he cried. We thought he might have a little something that they didn't suction out," said Sutterfield, 24, of Cullman, Ala.
After some tests and x-rays the doctors came to dad with some bad news. Baby Devon had paralyzed vocal chords. The squeaky noise that was heard upon his birth is actually something called stridor, which is like the sound of air whistling through a blocked airway.
Vocal cords, or vocal folds as doctors call it, affect how we speak, breathe and swallow – they close to let us swallow, they narrow to let us speak and open to let us breathe, explained Dr. Steven Goudy, assistant professor of otolaryngology at the Monroe Carell Jr. Children's Hospital at Vanderbilt in Nashville, Tennessee.
"Because you do have two vocal folds it could be one not working or both of them not working," said Goudy. "We see it several times a year, but it is still very rare."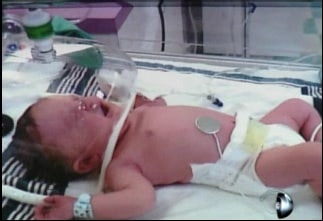 Devon's dad says that when he tries to cry it causes him to have breathing problems, sometimes turning him blue.
"The further it goes the less cry you hear," said Sutterfield. "When he'd cry — he'd cry so hard that he'd lose oxygen."
As of right now the doctors do not know what caused the paralysing of Devon's vocal chords. This occurs to one in one million babies that are born. Unfortunately Devon's parents have learned that this can be life threatening.
Devon is in hospital so that he can receive oxygen as he needs it and so the doctors can try and figure out how to treat him. The biggest issue is making sure that he is okay eating and breathing. If issues do arise then baby Devon will most likely need a tracheotomy.
Doctors say that between 35 and 50 % of these cases can be explained. There are many different disorders of the brain that could explain why this happened as well as a possible congenital heart problem, or even nerve damage at birth.
Yet roughly half of all children with paralyzed vocal folds are classified as having congenital vocal fold paralysis — meaning there's no known reason for it, according to Hartnick. "Around 60 percent of the time these children will recover in the first year of life," he said. In those cases, the damaged nerves leading to the vocal fold either slowly repairs itself or whatever was blocking the nerve is remediated.
I hope that doctors are able to figure out why Devon's vocal chords are paralyzed and treat him as easily as possible! – Shannon, Staff Writer


Related Articles:
---
[ad]