If you're like most parents, you've been thinking about your baby's first birthday since you found out you were pregnant. Added to that excitement is the pressure of knowing they only get one. How do you keep a level head and enjoy that very first birthday milestone? You can start by checking out these 10 tips for planning baby's first birthday.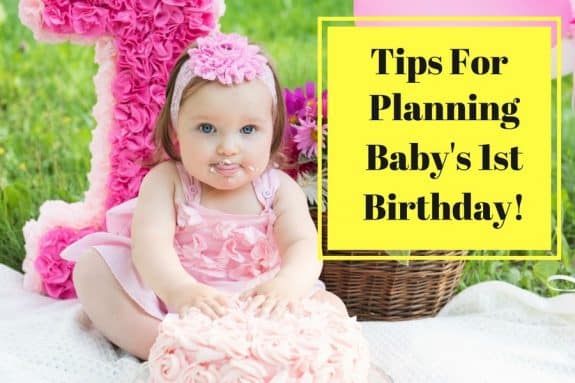 Remind Yourself That They Won't Remember
One day, you're going to sit with your little one and show them photos of their first birthday – so, yes, you want to have great pictures to show. But here's the thing: your baby isn't going to remember their first birthday. Of course, you want to make it memorable because you'll remember it. Just maybe skip the magic show and circus animals. Not only will it drive up your cost for the party, baby might not actually be interested in all the fanfare. Worse yet, he or she may become tired and cranky from all the extra stimulation, and that can stress you out, which is exactly the opposite of what you're trying to accomplish.
Set a Budget – and Stick to It
Some parents spend less than $50 on their baby's first birthday party. Others spend thousands. Neither is right or wrong; it's all about what you can afford and are willing to spend. Just make sure that you stick to your budget, regardless of what end of the spectrum you're on.
Decide the Guest List Early
There is nothing worse than sorting out extra guests at the last minute – especially when you realize that you don't have enough food or cake for everyone. Avoid this common issue by nailing down the guest list early on. Also, ask everyone to RSVP by a specific date (and make sure they let you know who they're bringing) so that you don't run out of goodies in the middle of the party or end up with more leftovers than you and your family can eat.
Consider Choosing a Theme
One of the easiest ways to decide what to buy is to choose a specific theme for your baby's birthday party. It doesn't really matter what you choose – it can be clown-themed, Disney-themed, or even just zoo animals to tie into your baby's favorite stuffy. The point is that you'll know what to buy weeks ahead of time, which can save you a lot of stress as party day approaches.
Partying at Home is Preferred
If at all possible, throw the party at your home (or the home of a close family member). Not only does this save you money, it also ensures that baby can take a nap if they get overstimulated. It can also help to reduce your stress level because you'll have baby things on hand (versus having to pack a diaper bag, only to realize you forgot baby's favorite pacifier about halfway into the party).
Hold the Party When Baby is Well-Rested
Because baby still needs to nap fairly often, you might want to consider having the party right after their first nap of the day. This will ensure he or she is well-rested, which means they're going to enjoy their party far more than they would have if the party cut into naptime.
Let Guests Know What You'll Be Serving
One of the most common mistakes parents make during the first party is they fail to let guests know what's being served. This can be problematic if you're only serving snacks and cake, but your guests show up hungry. Alternatively, serving a full meal to guests who ate beforehand could leave you with a lot of leftovers. Save yourself the stress and let them know what you'll be serving.
Be Mindful of Food Allergies
If the event is going to be just close family members and friends, you may already be aware of food allergy issues. But if you're throwing a bigger party, you may want to check in with invited guests to see if there are any allergies you need to be aware of. You don't have to accommodate everyone, but try to be as mindful as possible. At the very least, make sure that allergen-containing foods are clearly labeled (nuts, peanut butter, berries, soy, eggs, shellfish, and gluten are some of the most common).
Giving Out Party Favors
The party favors you give out may be dependent upon your guest list. For example, if it's mostly family and friends who have no children or older children, you may want to just go with cookies or other edibles. If you're inviting friends and family with younger children, consider giving out little toy favors – miniature bottles of bubbles, toy harmonicas, toy clappers, etc. Alternatively, you could purchase small picture frames and set up your own photo booth so that families with kids can take a family photo and then frame it when they get home. It's a fun idea that kids of almost any age will enjoy, and it gives adults a memorable item from your baby's first birthday.
Remember to Have Fun
In all things that you do and plan, remember to focus less on perfection and more on the fun side of things. Because, really, what's the point of having a birthday party if you and baby don't have fun?
---
[ad]