A British Columbia toddler is safe after he floated solo nearly 8 miles downstream on his toy jeep last week.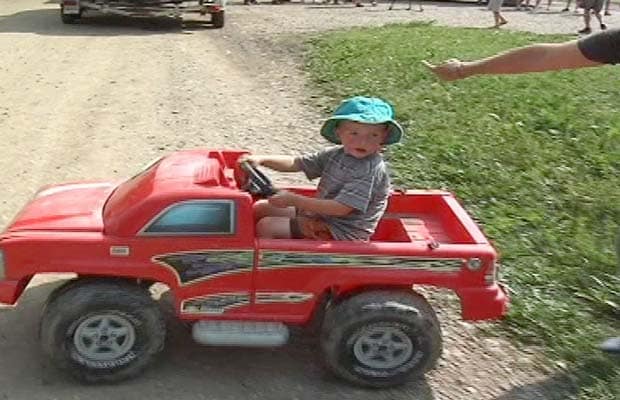 Three-year-old Demetrius Jones was staying at his grandmother's holiday trailer in Peace Island Park in Taylor, British Columbia, when he took his battery-operated truck into the Peace River, where he got swept up by a current.
His grandmother, Anita Neudorf, said she didn't hear a sound when the boy left the trailer by himself earlier this week.
Gordon Rundle, a park worker, told the Vancouver Sun that once the tot was noticed missing, about 50 or 60 people started looking for him.
He was found couple hours later, with the toy car was floating in about 4.5m of water.
"His truck had turned over, and he had kind of swam back to it and used it as a boat," Mr. Rundle. said "When they rescued him, they took him off [the truck]. He was ready to jump back in to go get his truck, so they had to rescue his truck too."
When rescued, the unfazed tot, told his grandmother that he wanted to go back on his 'boat.'
He was taken to hospital, but that didn't last long. Within a couple of hours, the little adventurer was riding around on his toy again.
Other Amazing Toddlers: