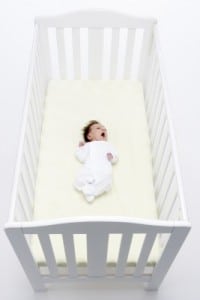 While the co-sleeping debate has always been one that has been controversial, 2 infant deaths in Milwaukee this weekend raise new safety issues about unsafe sleeping environments.
The Milwaukee Journal Sentinel reports that a 2-month-old boy sleeping in an adult bed with several people was found dead, with his 3-year-old brother lying on top of him, at 6:09 a.m. Friday; and a 4-month-old girl died the same morning while sharing a bed with her mother, who admitted she had three beers hours earlier.
The mom of the first baby, a 2-month-old boy named Jah'Lani, told authorities that the baby normally slept on his back in a Pack 'n Play, with his head resting on an adult pillow. He was moved into his parent's bed, where his 3-year-old brother was also sleeping after he woke up, crying, a second time early Friday.
The medical examiner's report stated that the mother found her 3-year-old son lying on top of the baby at an angle, with his left arm and elbow over the baby's mouth when she woke up at 6 a.m.
The second infant death was reported less than six hours later Friday, when a 4-month-old girl named Ty'Tyana was found not breathing while sharing a bed with her mother.
The second mother told authorities she had about three beers around midnight and stayed up, watching television and playing with the baby. When she fell asleep between 5:30 and 6:30 a.m. the baby was on her back, cradled in the crook of her mother's left arm.  It wasn't until 11:38 a.m, when she woke to answer the phone, that she realized the baby wasn't breathing.
While these two incidents happened within a short time of each other, they are both unique circumstances that are not the norm for new parents. They do, however, highlight two very important facts; a baby should never sleep in a bed with another child or with a parent who has been drinking.
In Milwaukee, which has one of the nation's highest infant mortality rates, premature birth is the leading killer of babies before their first birthday. Most of those deaths happen in the first month of life. For infants 2 months and older, sleep-related deaths take the lead.
There is also a need for more education on what constitutes a safe sleeping environment for an infant.  Newborns should always be placed in their crib or bassinet on their back and without any bulky blankets, toys or pillows.  A bumper should never be used as it poses a suffocation risk and limits the airflow through the lower half of the crib.
Print media and television also need to look at the way they present infant nurseries and newborns sleeping in their magazines and in commercials.  Often while looking for stock photos to add to our stories it is a challenge to find babies photographed in safe sleeping environments.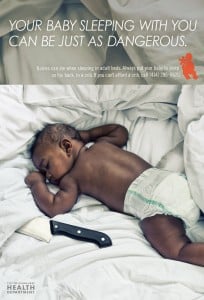 In attempt to reduce infant deaths due to co-sleeping the City of Milwaukee launched a controversial ad campaign that angered parents.  In response to the ads, which showed a baby sleeping in an adult bed with a butcher knife tucked beside him, Dr. Sears shared some tips for safe sleeping,
We recommend using a bassinet that attaches safely and securely to parents' bed, which allows both mother and baby to have their own sleeping space, while baby still enjoys sleeping close to mommy for easier feeding and comforting.
If bed-sharing, practice these safe precautions:

Place babies to sleep on their backs.
Be sure there are no crevices between the mattress and guardrail or headboard that allows baby's head to sink into.
Do not allow anyone but mother to sleep next to the baby, since only mothers have that protective awareness of baby.  Place baby between mother and a guardrail, not between mother and father. Father should sleep on the other side of mother.
Don't fall asleep with baby on a cushy surface, such as a beanbag, couch, or wavy waterbed.
Don't bed-share if you smoke or are under the influence of drugs, alcohol, or medications that affect your sleep.
Related Articles:
---
[ad]