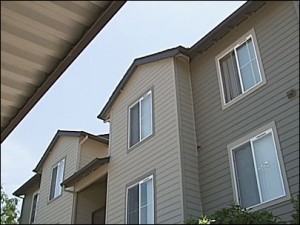 A two year old boy survived with minor injuries after falling from a third story window in his apartment building. The toddler landed in bushes below after finding a way to unlock the window and climb out.
Most falls of this nature happen when windows are left open or unlocked. In this case, a crafty toddler found a way to unlock the window himself and climb out. A neighbor called 911 after she heard the boy land outside her ground floor apartment window.
"Being a parent myself, the one thing that I've learned about children is that the only thing predictable about them is that they're completely unpredictable," Eugene Fire District Chief Craig Shelby said.
Despite the height of the fall, the toddler somehow avoided any serious physical injuries. He is still recovering, however, from the shock and scare of the fall.
Officials are using this fall to remind parents that locks and safety guards are not enough. Parents also need to keep a close watch on toddlers when they are playing.
"They're just curiosity machines. They're learning it's just a whole world," said Ron Fletcher, owner of Fletcher's for Kids.

"You just can't underestimate their ability to do things you thought they would ever be able to do," he said.
The Consumer Product Safety Commission also issued a press release reminding parents to watch out for windows that young children could get out through.
"Window falls increase dramatically during the spring and summer months but they can be prevented," said Chrissy Cianflone, Director of Programs for Safe Kids USA. "It takes active supervision on the part of the parent or caregiver, and a device called a window guard. Screens are meant to keep bugs out, not kids in. Window guards are easy to install and have a release mechanism in the event of an emergency."
-Summer, staff writer
Related Articles:
---
[ad]