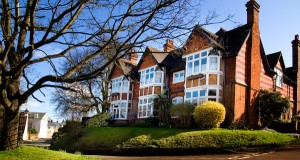 A UK mom learned that toddlers move quickly on Saturday after her son swiftly climbed a ladder that was sitting at the back of the Inn they were staying at.
Once she realized he had ended up on the roof of the Tree Hotel she ran inside to get help.
Manager Namit Julka said:
"I was behind the bar when the mother came in saying that the child had gone up.  I went outside to help, came back in and phoned the fire brigade. "
The mom went up on the roof to get her son but also became stuck.
Oxfordshire Fire and Rescue Service said:
"A passer-by climbed up a drainpipe and scrambled up the pitched roof to the child who was precariously perched on the ridge."
When fire crews arrived they used the hydraulic platform to rescue all three.
The spokesman said:
"They were confronted with a man holding a child stuck on the roof and a female, believed to be the mother, also stuck on the roof having made an attempt to reach the child.  The fire service, using ladders, rescued the child and the two adults and handed the toddler back to the shocked parents."
Thankfully everyone was safe.  This little guy definitely has an angel watching over him.
---
[ad]