Jaylan Amor is making giant waves in the world of surfing and he is only two years old.
The toddler is believed to be the youngest boarder on the Gold Coast and is already winning sponsorship deals with surf businesses.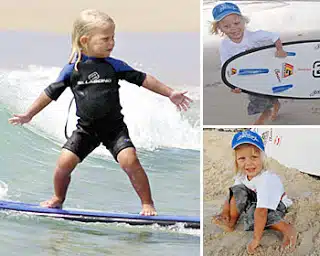 He first stepped on a board at Currumbin beach six months ago and now brings the beach to a standstill each time he catches a wave.
"No one here has ever seen anyone this young surf before – he's just incredible," dad Peter said.
Jaylan's surfing skill came as no surprise though, as his four-year-old sister Shayla learned to surf a year ago.
"They both took to swimming like ducks to water and love the beach. Their mum and I were keen surfers when we were younger, so I guess our kids have got it in their blood," Mr Amor said.
Jaylan sits on his board while his dad paddles out to the open water. The toddler then hops up and rides waves back to the beach, sometimes cruising along for more than 50m.
"When he falls in he just dog-paddles back to the board and waits for me to get him," Mr Amor said.
But Jaylan is under no pressure to become the next Kelly Slater.
"We'll just let nature take its course. He's a pretty good soccer player so he might become the next Harry Kewell instead," his father said.
"The most important thing is that he enjoys surfing. You only have to watch him smiling to see that he loves being on the water."
---