Organic baby products have become popular over the last few years because they are now readily available at most retailers.
Buying organic for your baby is important because Organic fibers like cotton, hemp, wool, alpaca, tencel and silk are not sprayed with harmful pesticides, fungicides, herbicides, and chemical fertilizers.
Organic farming of fibers helps save our water, air, and environment; overall, they are better for our bodies, our homes, our planet and for future generations.
Because the average family is not able to buy all organic products, parents should choose which products have longevity over something your child may only wear for a few weeks.
A baby carrier is a product that you could use for a year or two depending upon how quickly your little one grows.
Here are 9 Organic Ways To Carry Your Baby: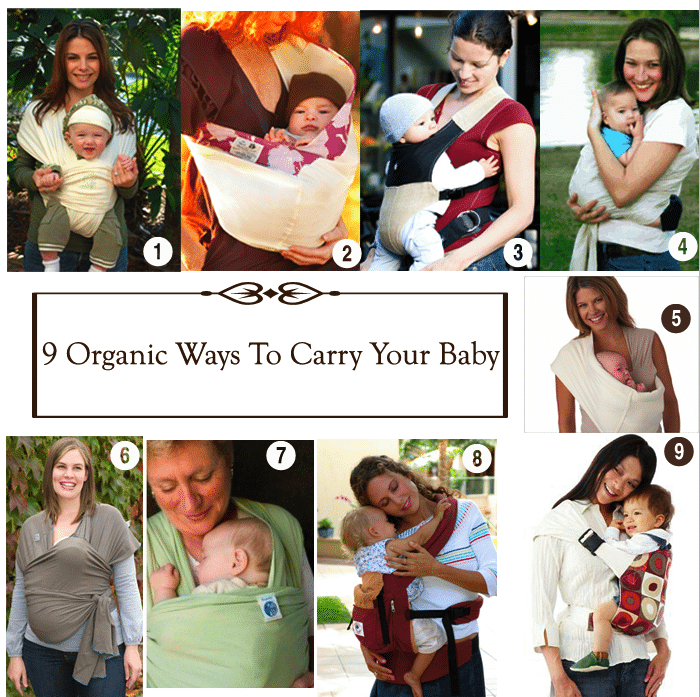 Baby K'tan Organic Wrap – The K'tan's joined double loop design offers parents 8 different positions for baby carrying. The organic carrier is new for '09.$68.25
New Native Organic Cotton Baby Carrier – Made from 100% Organic Cotton, this unique carrier is suitable from birth to 35lbs 10 stylish patterns available.$58
Belle Organic Baby Carrier – Ideal for babies 8 lbs – 30 lbs, baby can face toward or away from you, allows for direct contact and discreet nursing. 4 colors available $89
TaylorMade Organic Cotton Mesh Baby Sling – This ring sling, which is made of soft, breathable organic mesh, is perfect for those warm summer months, yet so versatile, you can wear it year-round.$89
Hotslings Organic/Hemp Sling – This sling is made of 43% Hemp, 54% Organic Cotton, 3% Lycra®. It is suitable from 8lbs to 35lbs and is machine washable
Blue Celery Organic Baby Sling/Wrap Hybrid- The Blue Celery is made of soft, organic cotton stretch! It features ergonomic two-shouldered support is practical & comfortable. Available in 3 colors $110
Organic Moby Wrap – wrap-style baby carrier Available in 3 colors (pictured in Celery)$69.95
Organic Ergo Carrier – This multi-positional carrier features a sleeping hood with elastic, adjusts in length for growth of baby (pictured in Cranberry)$120
Ellaroo Mei Hip™ Baby Carrier Organic – The Mei Hip features a shoulder strap that cups the shoulder, rather than riding up toward the wearer's neck. $80
---