Fans of Baby Jogger will be excited to learn that the gear giant has 2 new models in the works.
Famous for their easy-to-use, multifunctional strollers Baby Jogger will soon introduce the City Mini GT and The City Versa.
A step up from the City Mini, the new GT will feature a larger seat, 8″ foam filled tires, front wheel suspension, an adjustable handle bars and a hand brake.  Just like the City Mini, the GT will be offered as a double.  Both strollers will also have a lowered bar on the back basket and elastic on the side for easy access.
When they are introduced the City Mini GT will be $349 and the double version will be $579.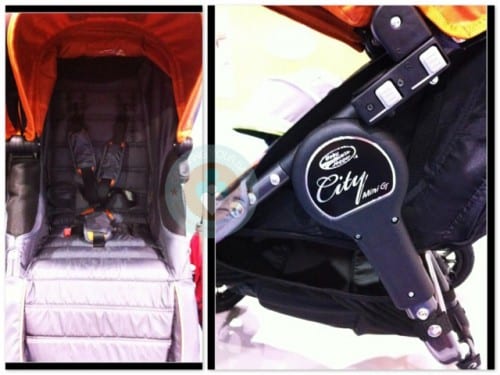 The new City Versa  is a cross between the City Mini and the City Select.   It will have a reversible seat, an adjustable handle and hand brake, all wheel suspension and is covered with a new stronger fabric that has a nice deco stitch.
One thing that makes the Versa unique is the cool fold.  Easy to do, you just have to push the seat forward and then pull the strap and it folds in half.  Love it!
When it's introduced the Versa will be $449 and it will only come as a single.
Also for 2012 look for the City Mini to have deeper seat and an autolock!
---