A Vietnamese baby girl experienced wilderness quite nastily when a swarm of forest honey bees suddenly entered her home and attacked her. The little girl was rushed to hospital with at least a hundred bee stings covering her head and face.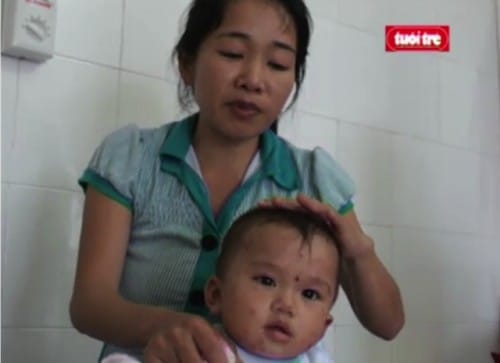 11-month-old Nguyen To Nhi Phuong of central Quang Nam Province in Vietnam was at her home on February 10th with her father Nguyen Dinh Hue, and her grandmother, 67 year old Bui Thi Thu. Suddenly a large swarm of bees entered their home and began attacking all three.
While Hue and his mother ducked for cover Phuong suffered the most with more than 100 stings covering her head, nose and face causing her to collapse almost instantly.
Thinking quickly Hue used an insecticide to ward off the bees and took his mother and the baby to Tam Ky General Hospital for emergency treatment.
Phuong was later admitted to the Vietnam-South Korea Pediatrics Friendship Hospital in her deadly state. Here the bee stings were removed carefully and first aid was given. She was then transferred to the Obstetrics-Pediatrics Center of the Da Nang General Hospital  for further treatments.
Doctors believed that if her father would have made even a moment's hesitation in bringing his only child to the hospital, she might not have survived.
The venom of the bees had led to liver injury and blood deficiency. Doctors put Phuong on a respirator and given detoxification medicines and high-dose antibiotics, along with blood and fluid transfusions.
Yesterday, after spending 10 days at the hospital Phuong's condition was stable and her parents were allowed to take her home.
It was though a very lucky escape for the little girl as Dr. Nguyen Minh Tuan, head of the hospital's Pediatrics Department II, said if the bees had been wasps, the baby would not have survived.
Related Articles:
---